The Global Climbing Initiative originally came to Genevive Walker and Mario Stanley, asking them to work as a guides and mentors for a trip they were planning for this year. Genevive was excited to teach the local climbers, increasing their climbing knowledge and skills and helping them to be able to mentor the next generation of Malawian climbers. GCI brought me on board to mentor budding climbing photographers and offer instruction in climbing techniques and development for the Malawian community. Our main goal was empowering the locals to take ownership over their amazing natural resources and control the development in their own country, so it's not just foreigners coming and exploiting those resources without giving back to the communities they're impacting.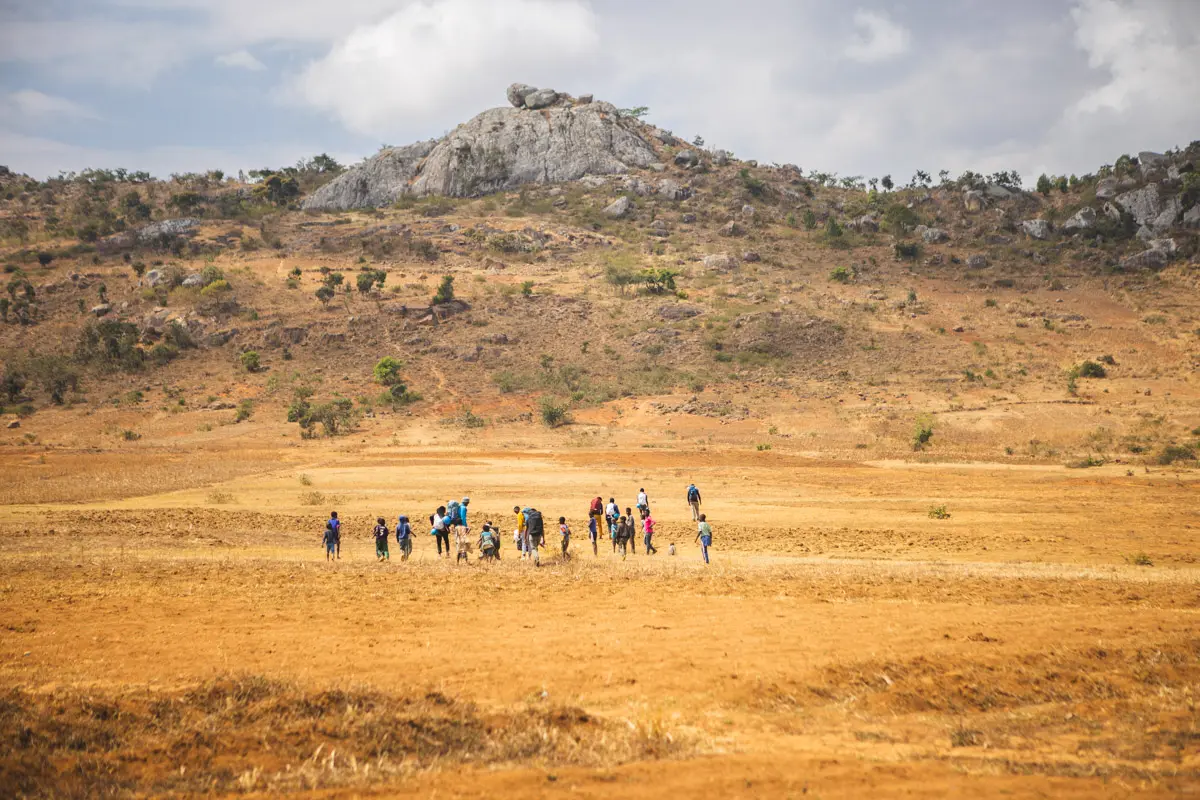 From the moment we met the children, we were welcomed into their fold like family members. Their warmth and receptiveness made us feel right at home. It was truly heartwarming to see how eager and receptive they were to absorb every bit of knowledge we had to share. Our chosen venue for the clinics was Mulundi, a local climbing area about two hours from the capital city. Here, Genevive provided comprehensive instruction, covering everything from the fundamentals of climbing to advanced techniques. Mario, on the other hand, not only added seven new sets of anchors for fresh routes but also established teaching stations for practicing anchor techniques in close proximity to the ground. Mario also led a two day bolting clinic, instructing the climbers in how to develop new climbs.
On our day off from instructing climbing in Mulundi, we wanted to see more of the country. We traveled to Liwonde to do a safari and saw elephants, lions, antelope, baboons, and warthogs, and then went to the beautiful Otter Point on Lake Malawi.
After spending a week and a half in Mulundi, we journeyed to Mulanje, a colossal massif extending over 20 kilometers and rising more than 2,000 meters above the plains. Its sheer magnitude was awe-inspiring, to say the least. We went with the goal of establishing a new big-wall route up the massive Chambe face, but the reality was we did not have nearly enough time to even attempt this. We ended up finding a large boulder in the foothills of the mountain that could provide multiple climbing routes that we hoped would be easy to access for novice climbers. The rock didn't form as easy of climbs as we had hoped, but they are of good quality. We were able to establish three 5.10s and two potentially difficult climbs that need to see first ascents.
Despite our best efforts, time ultimately proved to be a limiting factor, preventing us from accomplishing all that we had set out to do. Nevertheless, we envision this partnership with Climb Malawi as a long-term commitment. With this in mind, we are eager to return next year to conduct further training sessions and contribute to the ongoing development endeavors in this remarkable community.
Enjoy some highlights from our trip!