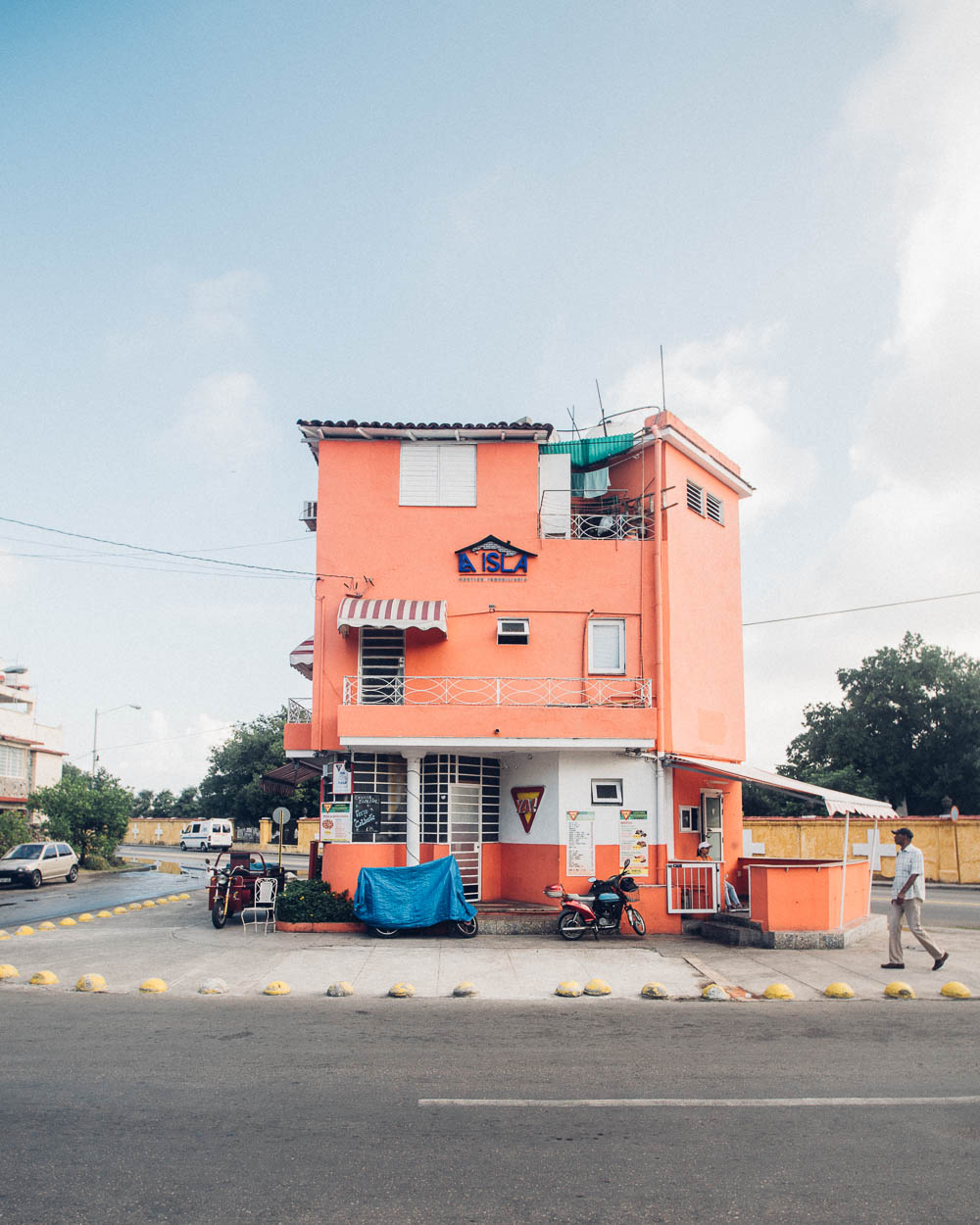 I woke up the next day, and hoped to find a nearby bank to exchange money. The closest bank had a long cue that I waited in for thirty or forty minutes without any real idea of what was going on. It didn't seem to be moving. I walked the forty or so minutes to Michel's house in Central Havana hoping to find another bank on the way. I reached Michel's having not found a bank almost an hour late for our meeting time. We walked to Habana Vieja and found a bank with a shorter cue. Of course the rate was quite a bit lower than I was expecting, but there were no other options I knew of.
As we left Habana Central, we entered "Chinatown" marked with a pagoda arching over the street. "There aren't any Chinese in Chinatown," declared Michel. He stopped and told me, "The police don't like seeing Cubans from Central with Tourists, they don't want you to know the real Havana. Walk with some space between us. I could get in trouble with the police if they think we're together."
Michel led me through the touristy areas of Vieja where the fancy hotels, nice restaurants, and street performers, which I did not find very interesting. He saw I was bored and not taking any photos, so he took me back towards Habana Central, stopping at a few markets along the way. I finally saw where the locals find there produce.
Yelling into the second story of a typical central Havana building, the door opened in front of Michel. I walked through the small door finding a staircase immediately behind the door and no person that opened it. A small string ran down the wall of the stairs and attached to the lock on the door, which someone could pull from the top of the stairs.
The stairs led to a courtyard in disarray of construction never finished, but behind the door to the left a large woman greeted us. Giving Michel the customary kiss on the cheek, she invited us in. A pretty black girl was busy making cupcakes in one side of the room, and the large woman returned to putting icing on a cake. Michel explained that they were his aunt and cousin.
The aunt kept pressing sweets into my hands, a cupcake, a tart, custard… I'm probably forgetting some. It's definitely understandable how she got to be in her current state. It was all delicious.
Yesabel, the cousin, told me that she was a musician, she plays the bongos. When I said that I played guitar, she looked excited and disappeared into a back room. Returning, she thrust an old classical style guitar into my hands. With one strum it was painfully apparent the guitar needed new strings and a tune. I sat down on the couch and pulled up my tuning app on my phone. Yesabel looked amazed. As I tuned, she disappeared into the back room again. She brought out her smart phone, opened an app and thrust it at me. I looked at Michel confused. "She wants you to transfer the app to her." "No entiendo? I don't know how." Apparently there is an app in Cuba that allows people to transfer apps via Bluetooth. I did not have this app so I could not help her.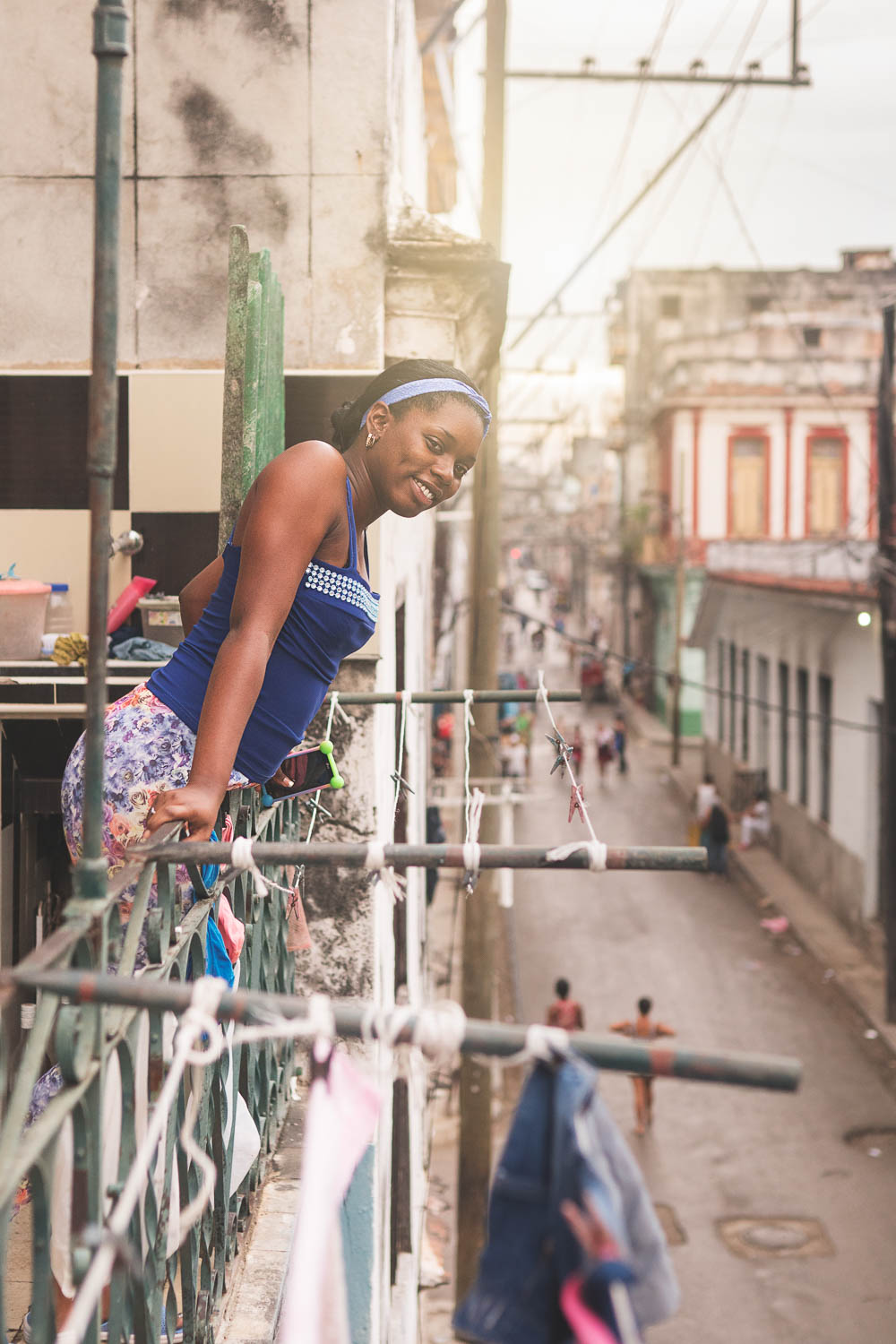 "I'm done here," said Michel after a while, "are you ready to go?" With kisses on everyone's cheeks, we make our way back to the street. I couldn't really imagine trying to balance a cake while going down that steep staircase. I take a few more photos on my the street, then we're back to Michel's house.
Michel is very proud that he has Univision and Telemundo on his TV, two illegal stations that he buys on the way black market. "The Cuban station is just boring talk all day long.  No novella, no international news."
He lives in a simple apartment on the second floor. The door opens to a small living room with a balcony, a couch, two chairs and a TV take up most of the space. A small kitchen has enough room for the a couple burner stove, the sink and a bed opposite.  Passing through the kitchen you get to the toilet, opposite to the bedroom. Michael's wife is a tired looking short and fat woman who didn't seem to have much to say. A transvestite named Havier lives with them, but I was unclear of their connection. Havier was very nice, all smiles while she cooked for us.
The Internet was generally accessed In WiFi Hotspots near public parks. You buy a scratch off card that gives you an hour of connection. Michel said the cards cost $3, but there were black market Hotspots for $2 in his barrio. Before dinner, all of us go to one of these, which was a dark street filled with glowing faces looking at screens. Michel handed my phone to a young man with a girl sitting on his lap. He purposefully closed all my running apps, which apparently all Cubans have a penchant for doing. (Android states that it takes less processing power to keep them all open, hence why they took away the option to Close All Apps. Every Cuban that held my phone, to use the translate app, went through and closed all my apps, repeatedly). The connection was very weak, but I was able to get some emails and chat briefly with my girlfriend who was happy to hear I was still alive.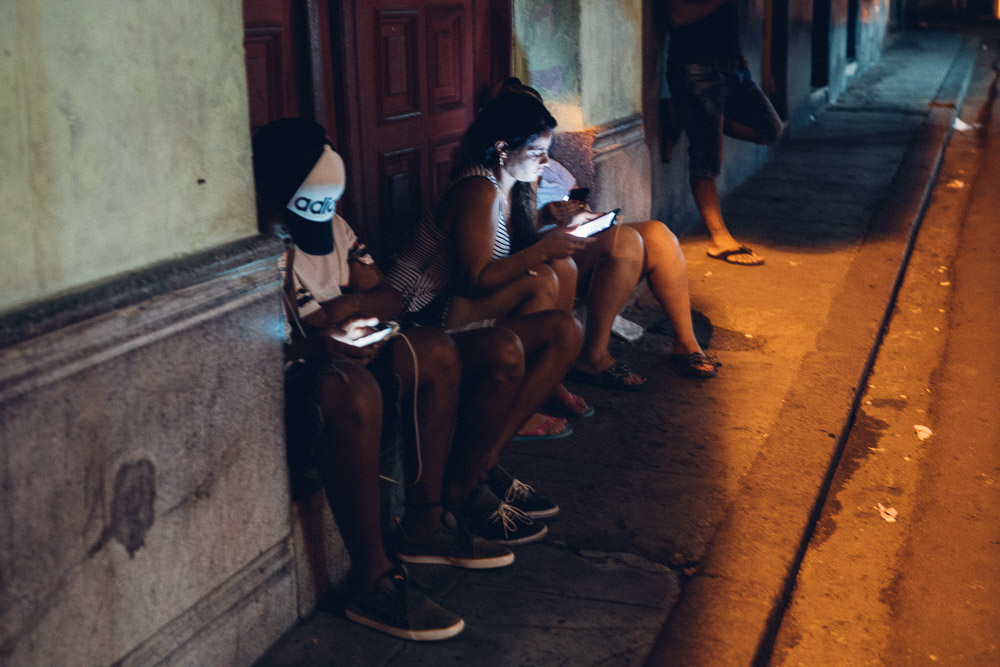 Dinner consisted of rice, pork, tomatoes, and a small sweet banana; simple but delicious. After, Michel led me back to Avenida Simon Bolivar and instructed me to get on the first bus that came. 
The passengers in the front of the bus helped me to get off at Calle Zapata. The walk home in the dark was a nice stroll, but the heat of the day still was not done. I was quite sweaty when I got back to my room. I slept with a fan blowing on me all night, covered by a light, silky sheet. As soon as the fan hit, I was at the right temperature.
My only plan for the day was to meet Rodney and more of his friends for photos, hopefully equally tattooed and in a different location. We were supposed to meet at 1, so I decided to go in a new direction for the morning. I wanted to check on the bus for Viñales and the station was south.
I stopped at a cafeteria for breakfast and asked the pretty black server what they had for desayuno. She rambled off a bunch of things I didn't understand, so I said, "el primero". "Pan y queso?" she clarified. "si."
A foot long piece of bread overflowing with pre-sliced cheese came out. Eh, good enough. I had tried to order "jugo fresca," fresh juice, but an apple juice box came out with the bread. When the server handed me the bill, it said, "Pan y queso: $4, jugo de manzana: $2. En Total: $6." $6! For bread and cheese! Bread should be at most $.50 and cheese, the same. The juice boxes are $.80. At the very most the total should be $2. I was upset. I argued with the pretty black girl for a while. I have no idea what she said. "This is my most expensive meal so far in Cuba. For Bread and cheese!!" I said. She tried to bargain with me, "cinco dòlares."   I eventually gave up, I'm in another country and I have no clue what the person I'm arguing against is saying.
After I gave her 5 cuc, she asked, "Que pais?" (what country?)
"estados unidos"
"ooh! Que parte?" (what part?)
"Colorado"
"Tienes novia?" (do you have a girlfriend?)
"si"
"Es ella aqui?" (is she here?)
"uhh, no?"
"(some things I couldn't understand while smiling flirtatiously)"
"yo voy ahora por Via Azul, much gracia" (I go now for the bus, thank you very much)
…. This girl, over charged me, argued with me, then basically came on to me. A very confusing ordeal.
Taxi drivers intercept me at the bus station. "Viñales?" they asked? I bypassed a younger, more aggressive driver and came to a jolly older man. "Viñales por $20?" He made the case that he would come to pick me up at my house, which makes up for the difference in price from the bus. I agreed, and he said he'd come at 9am.
Rodney's house looked pretty lifeless. I knocked on the back door and found him mopping his tattoo studio. He said his friends came the day before, not today. He said if I returned at 5pm, maybe they would be around. I told him I would possibly be back,but knowing I didn't want to backtrack that far. I had plans with Michel for dinner.
I typically take street portraits with only my small flash and a 12 inch pop up reflector, but since I was expecting to shoot with Rodney's friends I brought my much more powerful bare bulb flash and 18 inch beauty dish. I decided if I was going to get portraits that I really wanted I might as well break out the big gun. It was better than just carrying it as dead weight.
I walked a new way into Habana Central and came across a school just as it let out. The students responded with differing levels of interest. Right as the kids started to dissipate, older teen boys and 20 somethings appeared carrying baseball equipment. They were playing a pickup game in the courtyard. It was beautiful and incredibly interesting to watch. A young boy, Daniel, took it upon himself to be my assistant and carried my light for me all around the field. I almost took several balls and one flying bat to my head, but I wanted to get the photos. Definitely one of those magical moments in travel that doesn't happen unless you put yourself out there, one of the benefits of traveling alone.
After the sun had gone down and the game got more aggressive with lots of yelling, I continued on towards Michel's house. I still had over an hour till I was supposed to meet him, so I made my way into Vieja to try and use the fancy hotels' Internet. After catching up with my girlfriend and some emails, I walked back into Central. "Eh Cot! Eh Cot!" I heard yelling from across Avenida De Simón Bolivar. Michel was waving to me from the opposite crowded side walk. He was coming from having a drink with a friend. (It just struck me that it must have been at his residence because all the bars were still closed in respect for Fidel's death).
A family friend and her 20 something daughter were visiting with Michel's wife when we came in. Michel showed them my photos of the baseball game, which was at the school he grew up in. The friend exclaimed, "Esa es mi hijo!" (that's my son!) in one of the photos. They inspected all of them to try to see more.
Havier and Michel made basically the same meal as the night before, but definitely still delicious. Havier and Michel's wife left to get Internet, and Michel and I talked for a bit more. He walked me to Avenida de Simón Bolivar and put me in a shared taxi. I hugged him goodbye and wished him luck. I'm pretty sure he was skimming money off of most my my transactions, but he gave me an experience I was glad to have, very different than the typical Havana you'll see as a tourist. I'll let him have that.
I was feeling very fat in Havana despite all the walking I was doing, so I bought a tub of chocolate ice cream to really seal my obesity.
>>>>>>Continue Reading Part III!