I originally heard of Escalante Canyon when I traveled to Ouray for the first time, three weeks after I moved to Colorado, to go to the Ice Festival. I had never been crack climbing in the desert, but it sounded awesome, so I put it on a mental checklist. l'd been meaning to get to this area that's only about an hour from Grand Junction for three and a half years.
Alex Vidal and I finally made a trip out there a few weeks ago. It was great! Perfect weather, great climbs with awesome people.
We pulled into the campsite just before midnight. I slept on a picnic table covered by a small roof, and in the morning I saw a GMC pickup pull up and suspiciously look around. Neil Longfellow found us. He's been living in his truck wandering around the desert for a few months.
The climbing is similar to, but shorter than, Indian Creek. After spending quite a bit of time struggling up incredibly stout and powerful climbs in Vedauwoo this summer, the desert hand crack style felt so "easy" and precise (for the most part). After a short, but fun warm up we jumped on an offwidth 5.9 called Junk Corner (given one and half stars, but I had so much fun I climbed it twice). I did junk up the skin on my left elbow pretty good.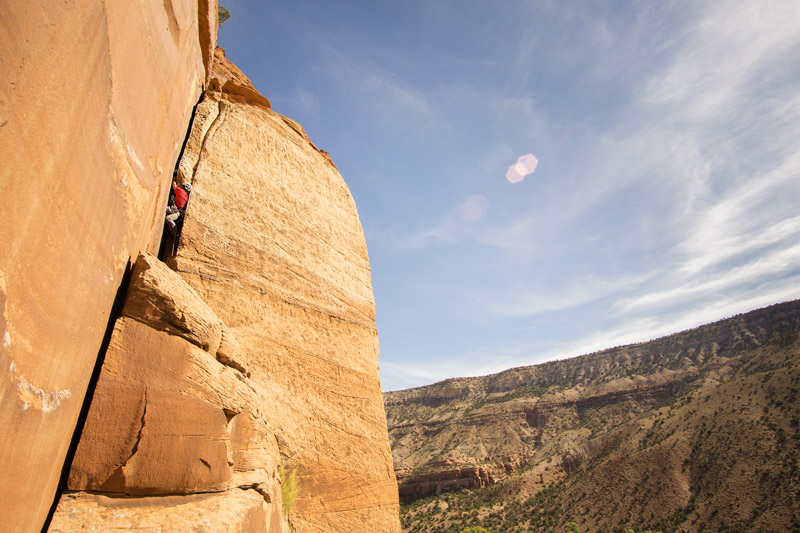 Alex squeezes up the chimney on Junk Corner, 5.9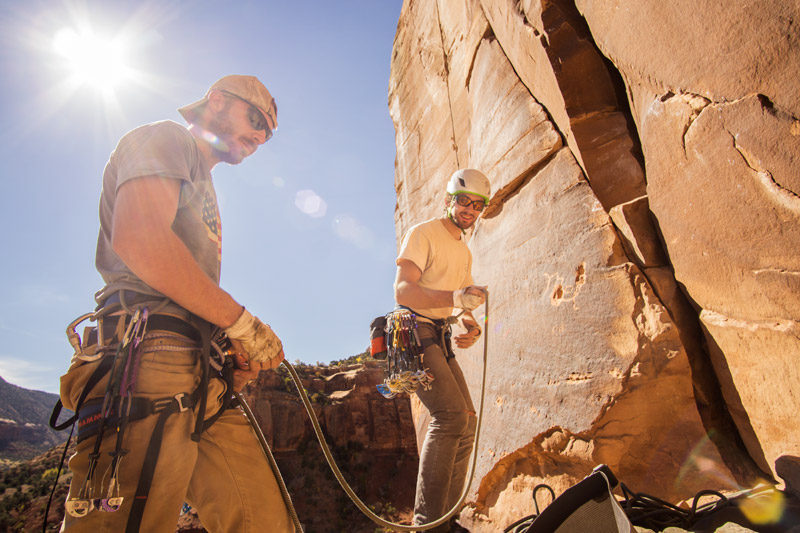 Alex prepares to climb TH Crack (5.8) at the Cabin Area
There's a lot of vandalism on these walls. People who can't hit broadside of a barn have to use cliffs as target practice, putting scattered pockets in puzzling locations up the walls. Below TH Crack someone carved a huge "TH", hence the name. The climb is another awesome warm up.
It was getting hot so we took a break, went back to camp and jumped into the creek. Well, Alex and Neil did. I hate submersing myself in cold water – it was surprisingly cold.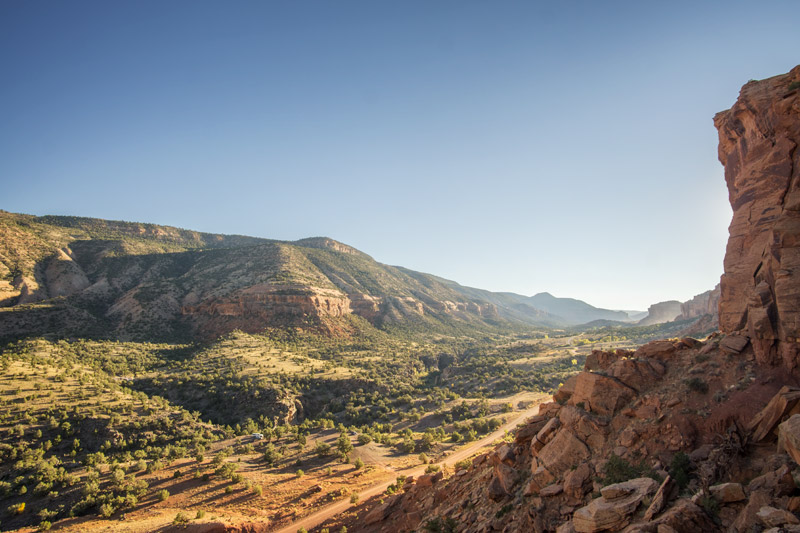 The evening light from the Interiors area overlooking our camp and a bunch of climbing not listed on Mountain Project.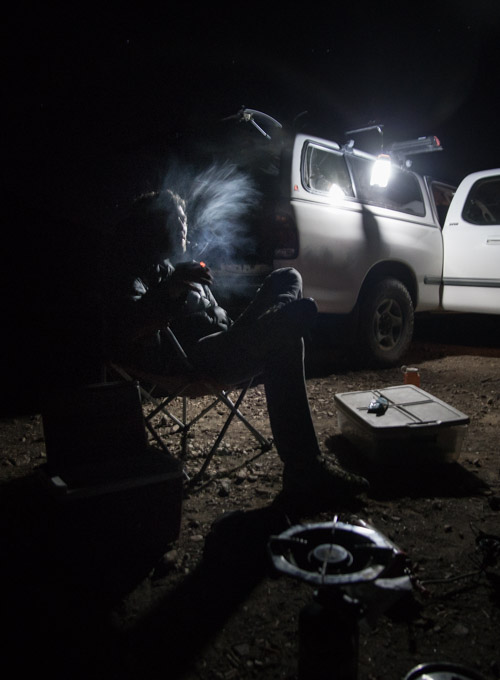 Alex losing his soul.
One of the best parts of camping in the desert is the incredible star-lit nights. I finally got some photos of the milky way I'm proud of.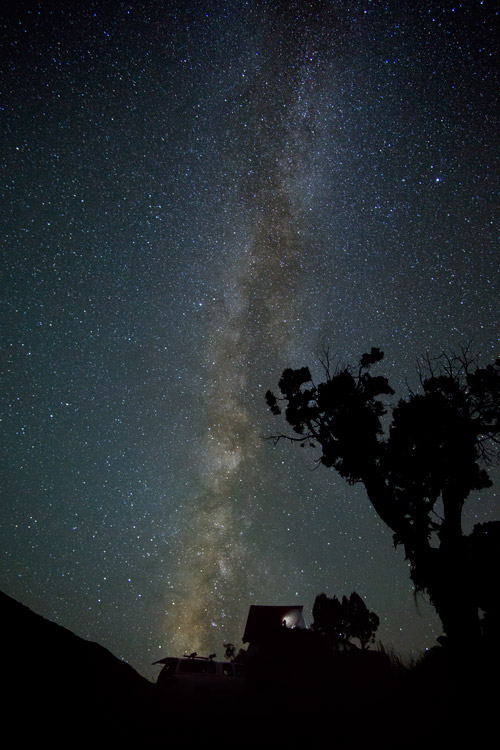 Neil's homemade rooftop tent silhouetted against the skyline
We climbed the second day at the Interiors Area again. We warmed up on Unknown I (5.9) which starts out as an overhang roof that you have to pull with offwidth moves, once on top of the roof it goes to extra wide #6 slab crack. Right where it gets desperate you're able to grab the start of the 5.10+ crack and jump up to a small platform to the bolts.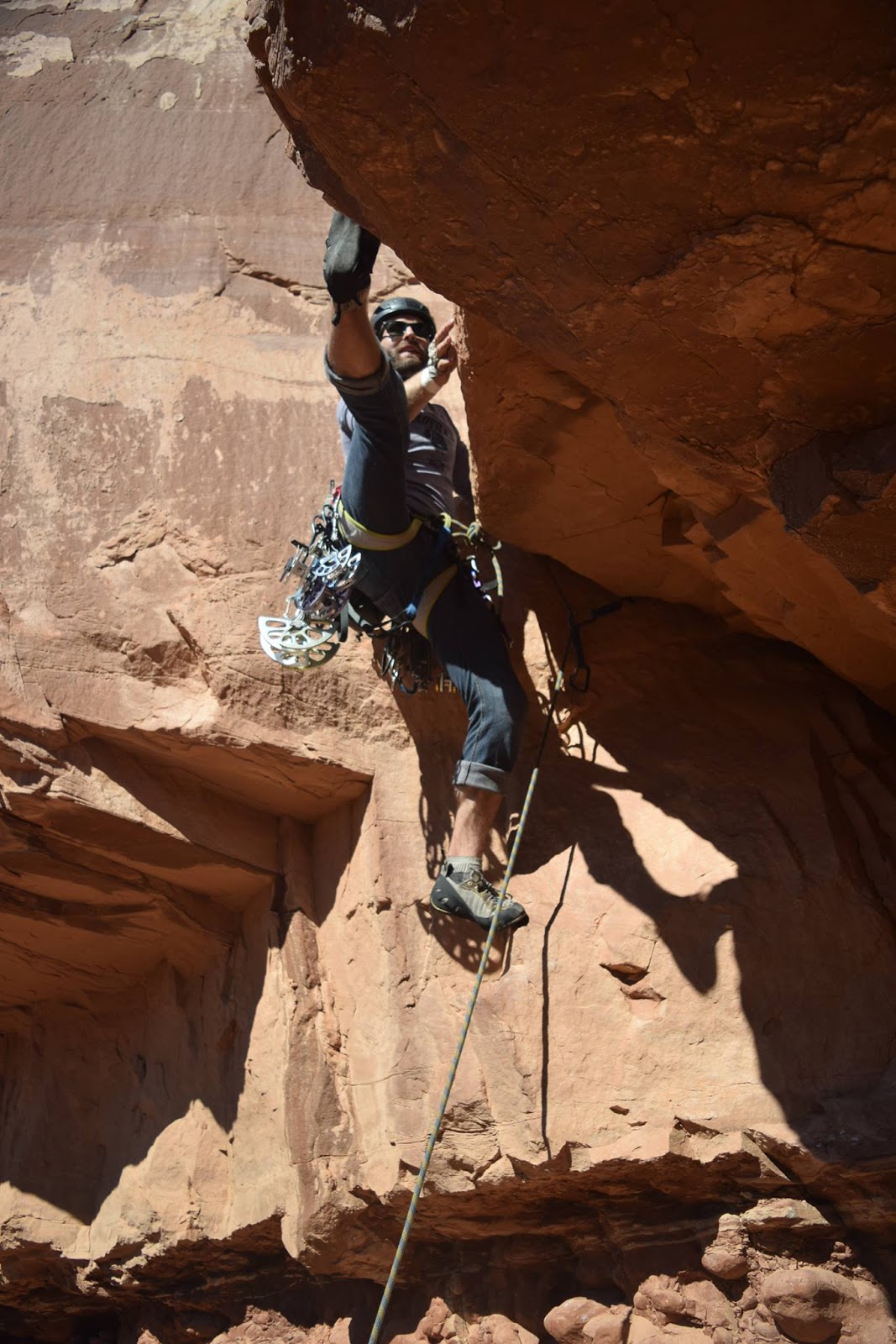 Neil Longfellow got this shot of me testing my flexibility. I need to do more yoga. He just missed the really amazingly awkward shot of my head being stuck below the roof.
From our campsite we were eyeing the Keyhole route, a 5.10a splitter small hands .75 splitter with "keyhole" pods. The movement through the pods is really awesome, and it was really the first indian creek style crack – uses mostly one size cam the majority of the way up – climb I've led. Especially in the size that wasn't just perfect hands the whole way up. Super-tight hands and fingers is all technique, and if you don't have the technique it's next to impossible. If you do it can be like climbing a ladder. Dealing with feet on these kinds of routes is probably hardest part. In the crux of this route I was able to lieback through the thinnest section and paste my feet on the slightly uneven crack.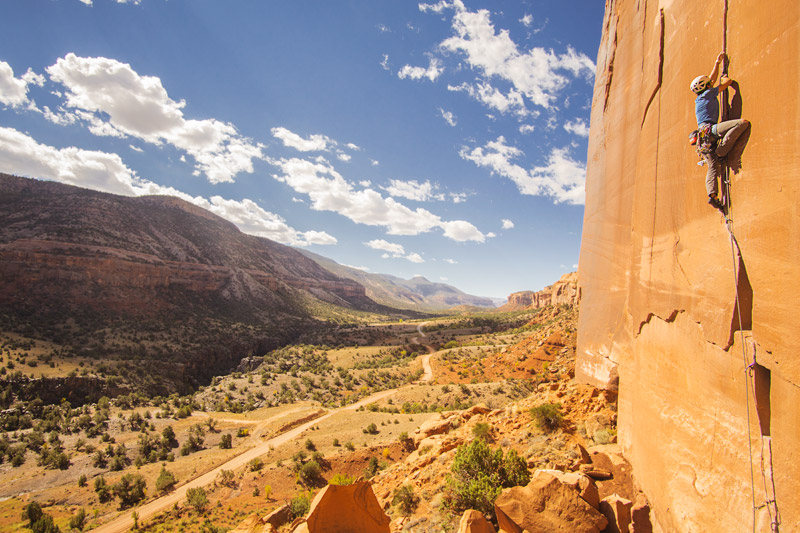 Alex climbs the brilliant Keyhole route (5.10a) at the Interiors Area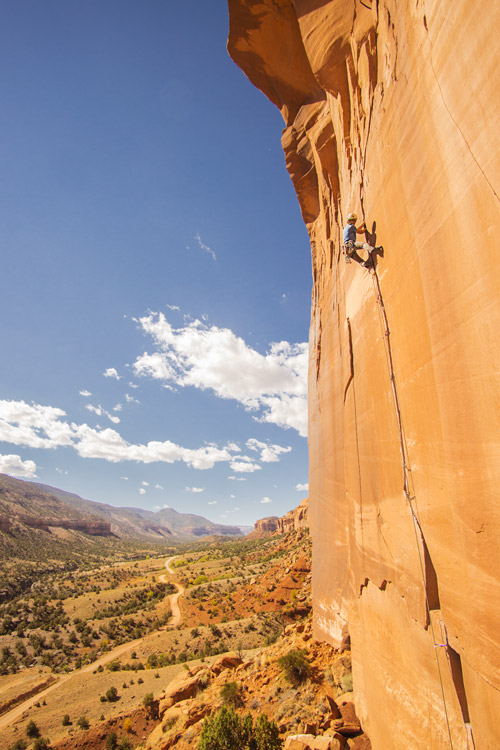 The top of the route opens up to perfect hands.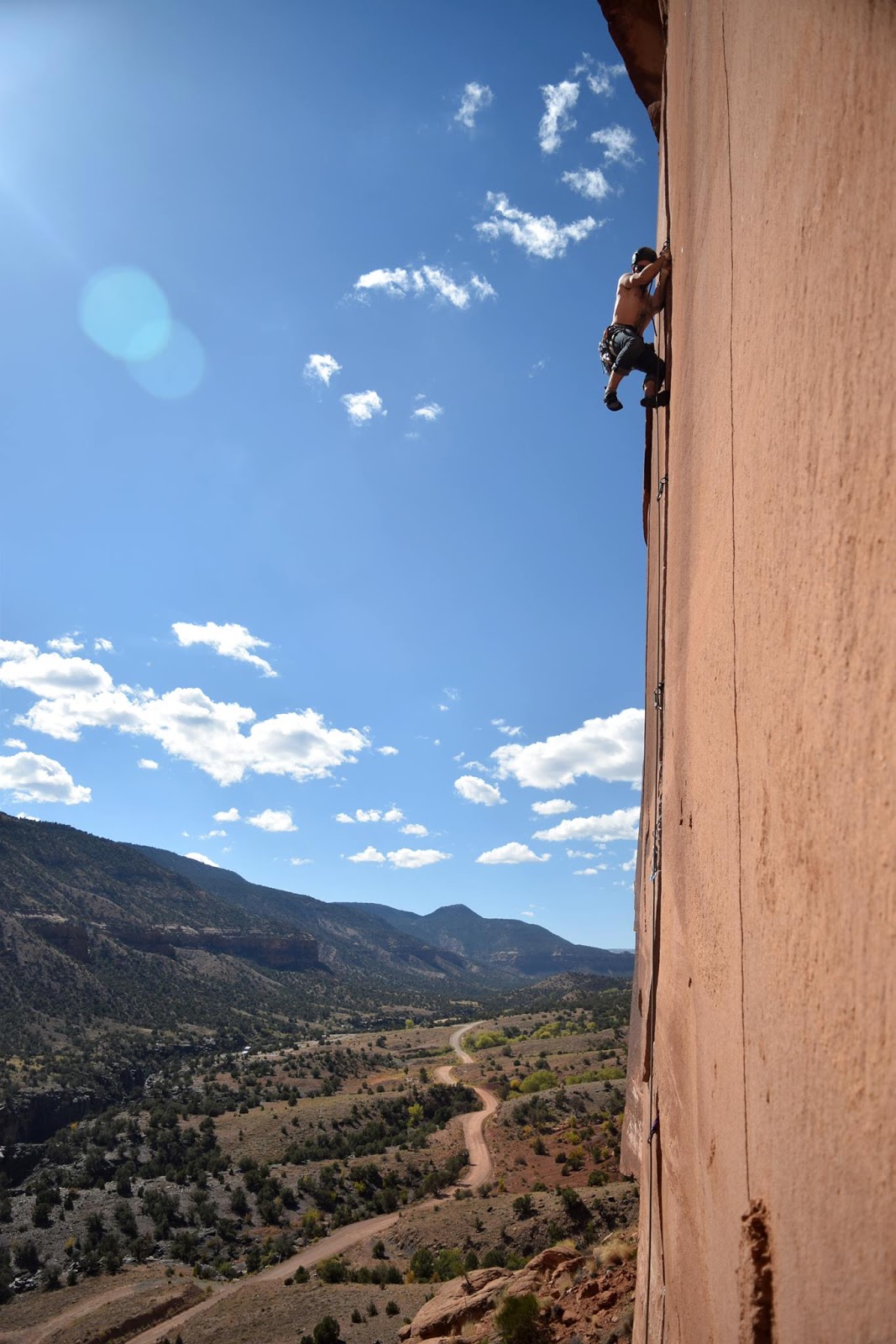 Neil Longfellow snapped this photo of me climbing Key Hole.
The Interiors area is called that because of two routes that are in a cave created by a detached pillar. To get to the routes you pass through Pinball Chimney 5.9+++R. It only has one confirmed send, but didn't stop Alex from playing around on it.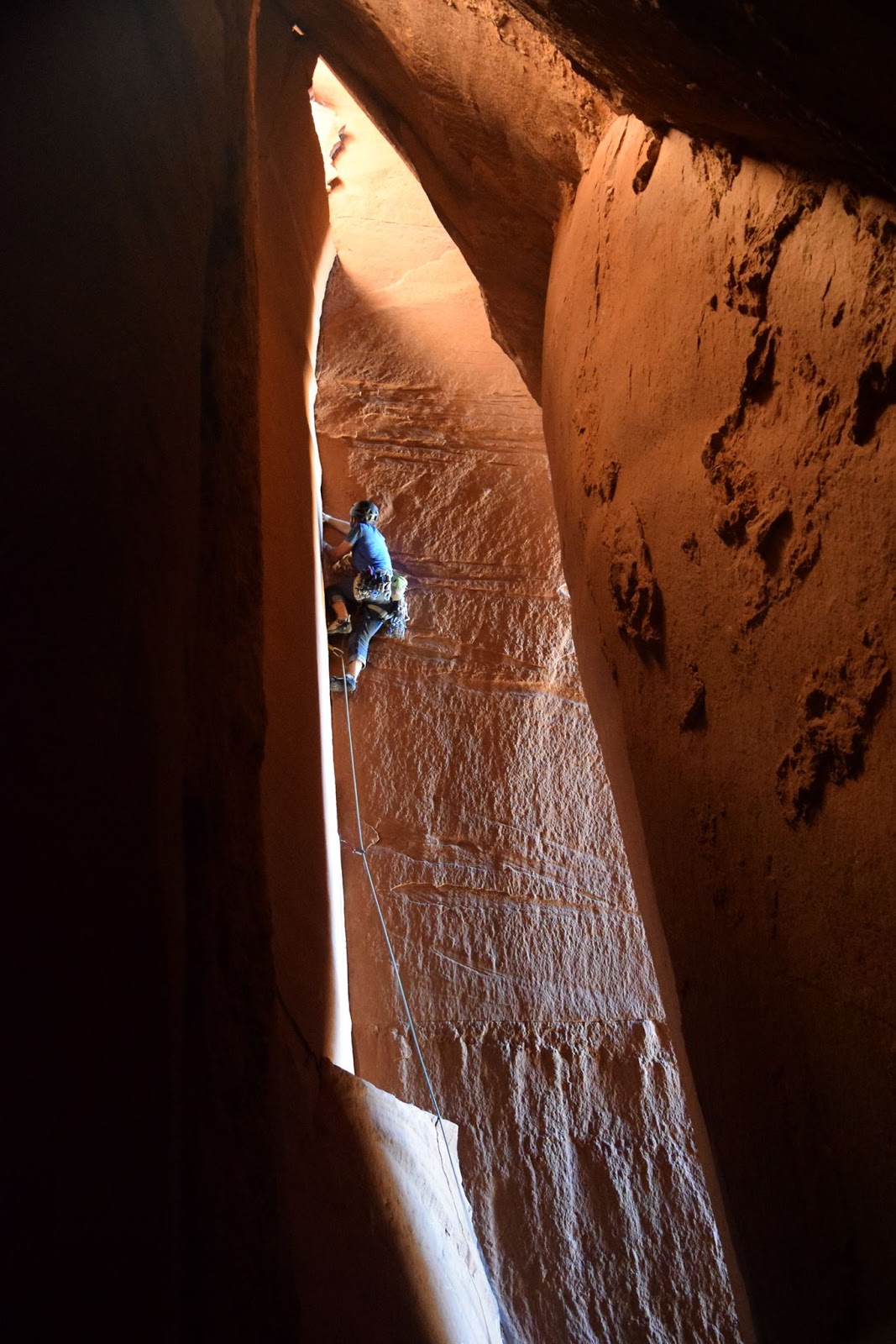 Neil Longfellow took this great shot of me on The Shaft
The light later in the day in the cave is so incredible, but we had to take off back to Boulder before I got any photos of climbers on these routes. Looking back that was a mistake.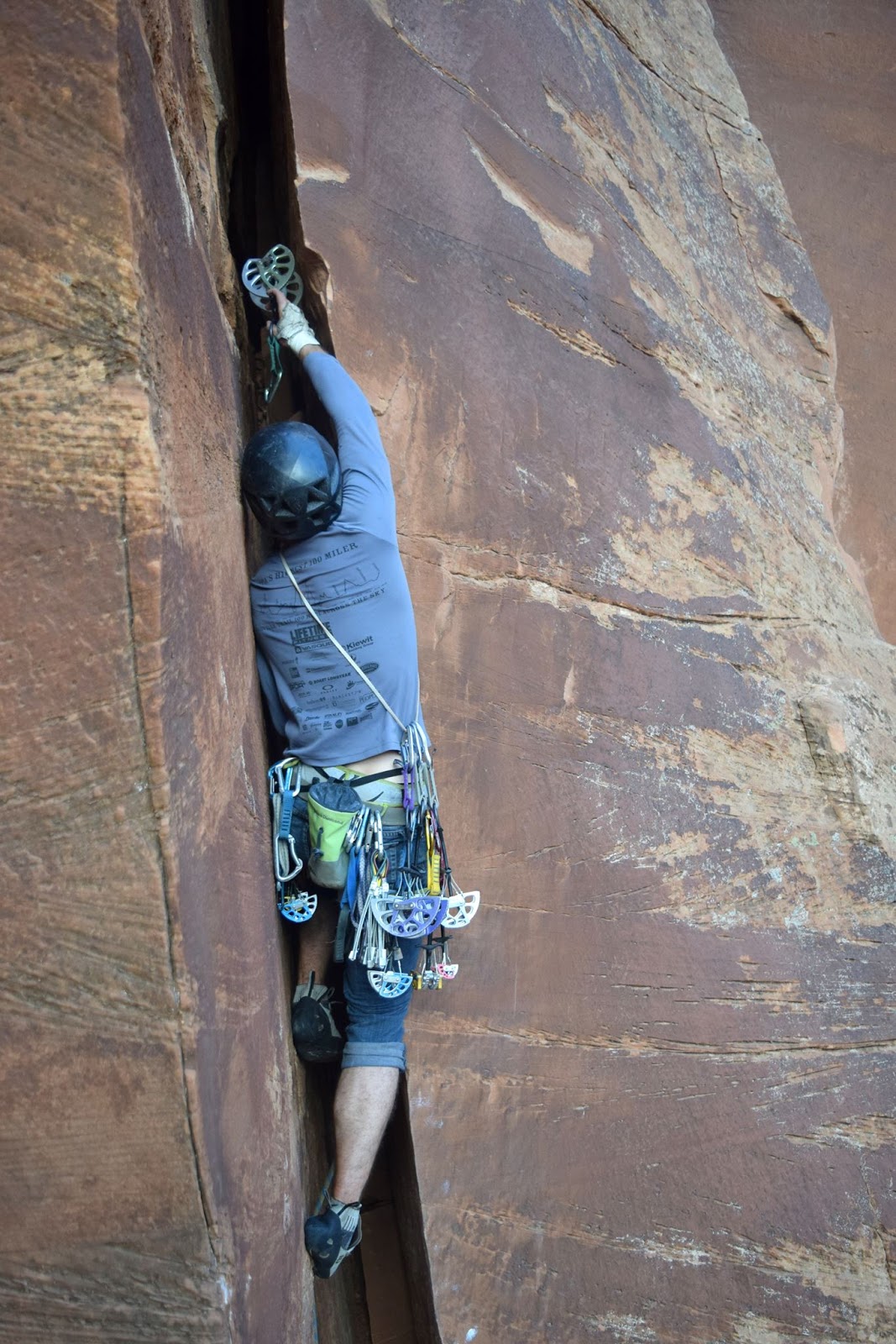 "Well, that might hold a wet cat"…tipped out with mud on one side. – Alex Vidal. Photo by Neil Longfellow
I had definitely never led anything like this. I had to fight my way up 20 feet before I could place my first piece, a tipped out #6, the widest cam. I had to worm up, finding body positions that pinned just the right part of a knee or elbow or head or shoulder to keep me from sliding out and landing on the rocks below. The positions where it's possible to move upward are the positions where it's possible to fall out. The body positions where you're locked in to the point of relaxing and taking a breath, I found it all but impossible to move from. Getting in and out of those two main positions I found to be the crux of the route. It's a full body battle agains the rock to move and keep you in it at the same time. I bumped the #6 higher in the crack till it was finally good enough that it might have held me if I statically took on it, and pulled myself out of the offwidth crack onto a small ledge before the rest of the climb up 5.8 crack and slab. I huge sigh of relief and a proper mount of exhaustion. Now. Now I was ready to go home.