After my road trip with Matt, Keith and Dan concluded in Salt Lake City, Utah, I jumped in a messy, "well lived in," forest green Ford Explorer and headed back to Idaho with BASE Jumper and climber, Sarah Watson.
We spent Sunday recovering from Outdoor Retailer by putting up a waterline at Pillar Falls on the Snake River with Vincent Faires. We hopped on Kathy's pontoon boat with her parents and she dropped us off at the falls. Her mom was …. precious. Kathy Peterson is the Angel of Twin Falls, ferrying jumpers from the landing zone to the boat docks, shortening the time between jumps.
Sarah and Vincent work their magic in putting up the slackline on previously established bolts that spanned a pool carved into the rock by the river. The landing in the green water was generally deeper than I cared to touch, but a few larger boulders made sure I paid attention where I entered the water. I am not good at slacklining and taking the first steps onto the line over the rock edges of the pool was pretty unnerving.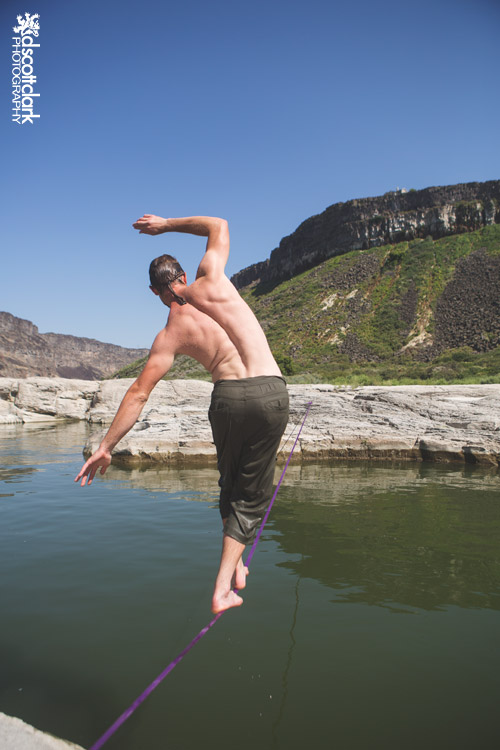 Vincent made the first crossing.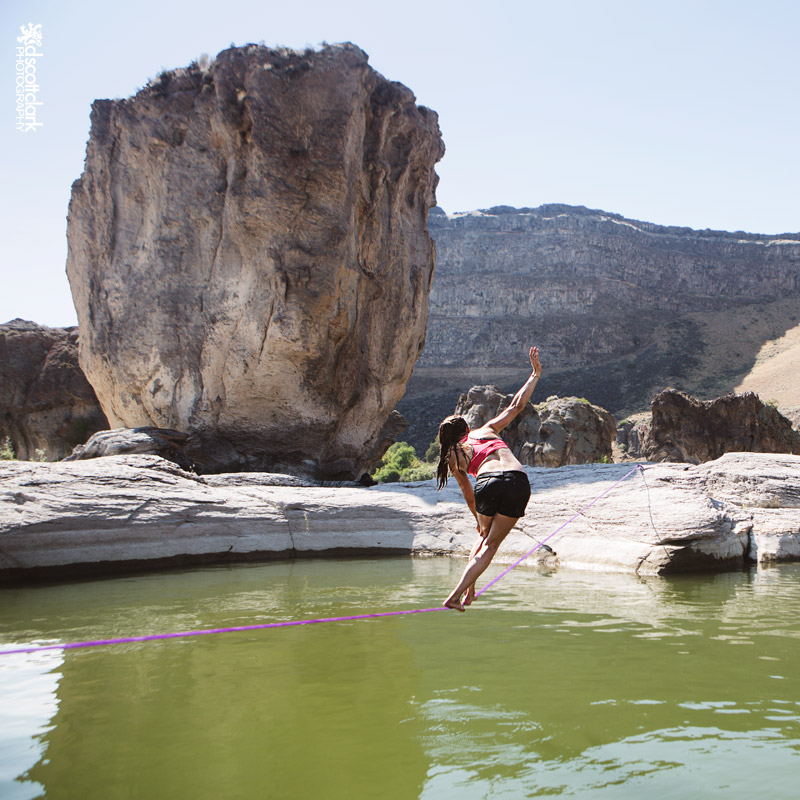 Sarah losing control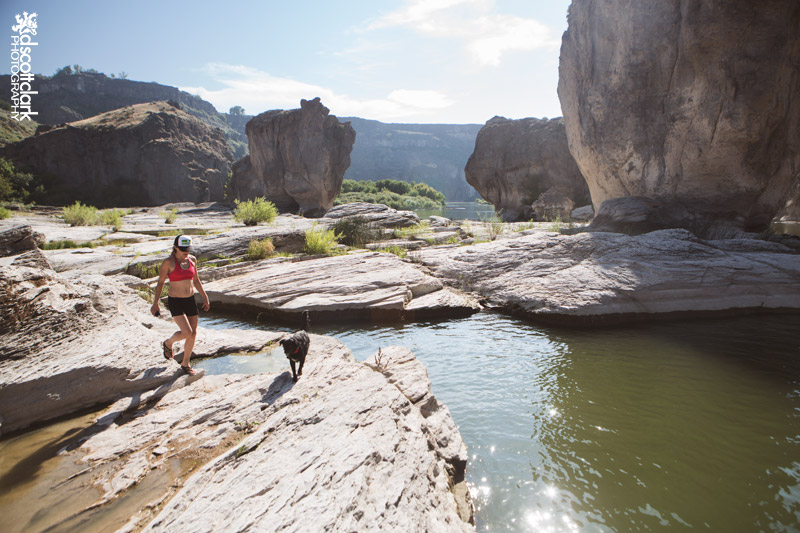 Pillar Falls is beautiful.
Idaho is incredibly beautiful and undervalued. I had never really thought of Idaho as a destination, but it is completely worth a trip!
BASE Jumping!
It should be noted that BASE Jumping is very difficult to shoot. I hadn't thought about how little time I would actually have to shoot my subject before they were out of frame. It is definitely not like shooting climbing where I have several minutes to compose, light, and capture the perfect image. With BASE, I basically have one shot per jump, even shooting in burst mode.
Also, stepping over the railing of the bridge, almost 500 feet above the water, is terrifying, even knowing that I'm fully attached by webbing that can hold a suspended truck. I don't have a parachute, like my subjects, if something went wrong.
Sarah and I pull into the Welcome center parking lot around 10 am. Several other jumpers are preparing their packs in the grass next to the Perrine Memorial Bridge. They tend to jump in groups and wait around for each other. There's definitely something to be said about camaraderie.
Sarah, having recovered from a serious foot injury, hadn't jumped in 5 months and was a bit nervous. But she had friends and familiar faces around to encourage her. Over the next several days and multiple jumps, she regained her confidence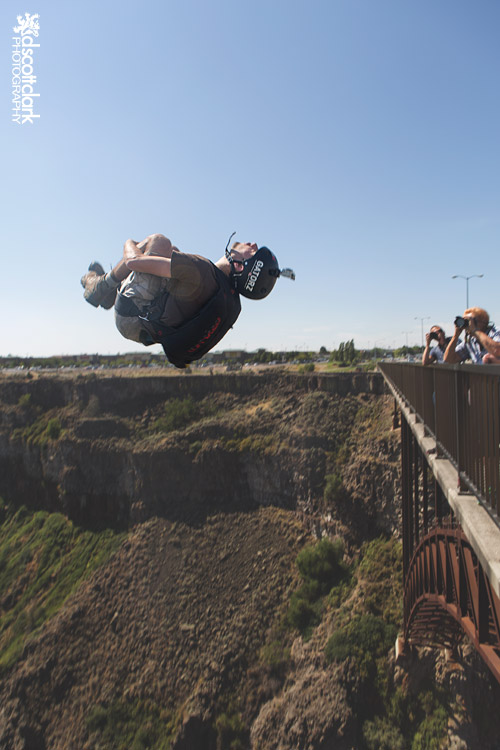 Sean Morey pulls a triple gainer off the 486ft tall bridge over the Snake River.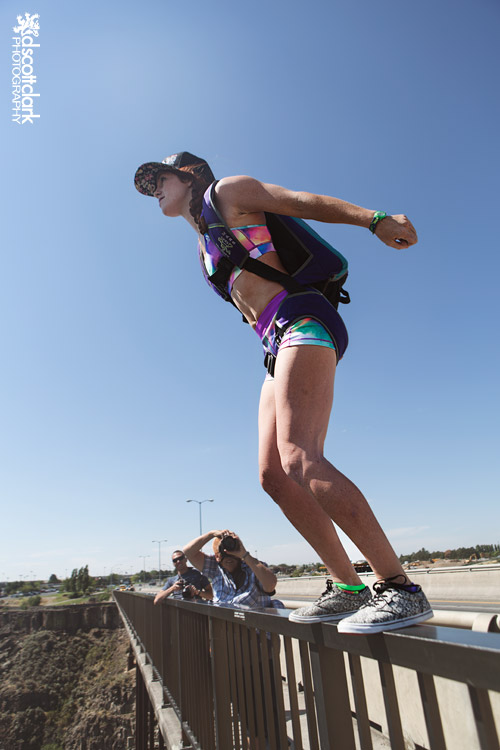 Hayley Ashburn takes the leap off the rail.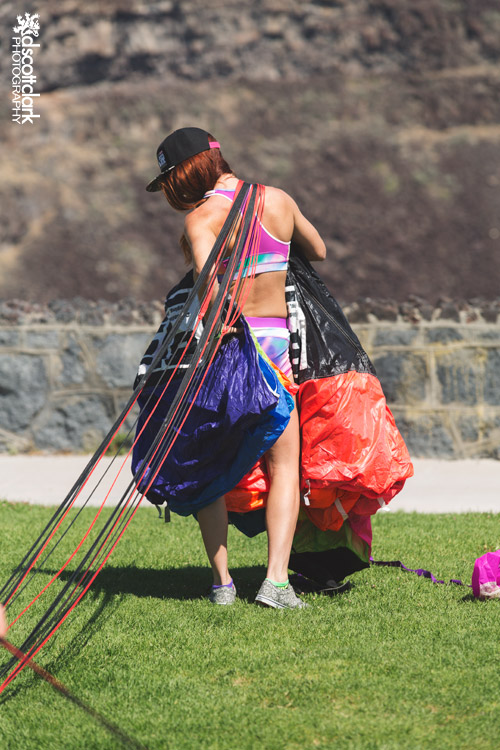 Hayley prepares her chute for her next jump.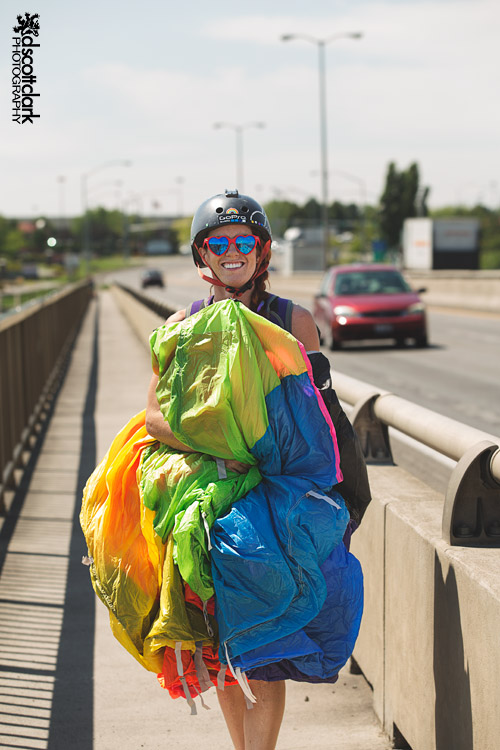 With an unpacked chute Hayley Ashburn walks out onto the bridge, preparing to do a rollover, a front flip over your chute draped below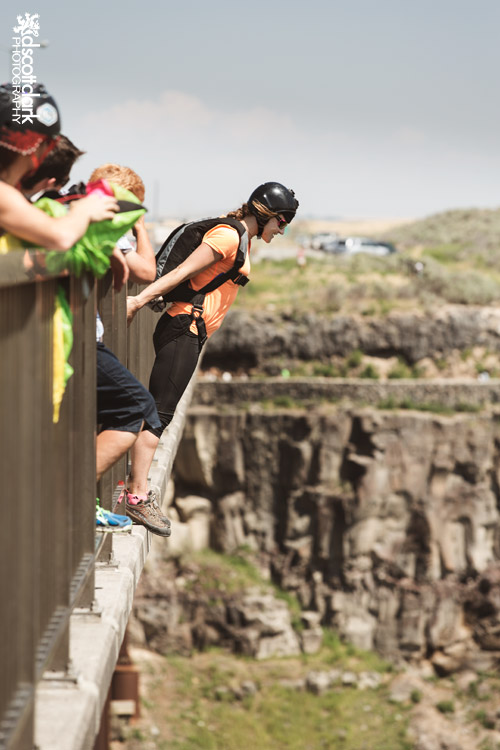 Sarah prepares to jump of the Perrine Memorial Bridge.
The Skittle, as Hayley refers to her chute.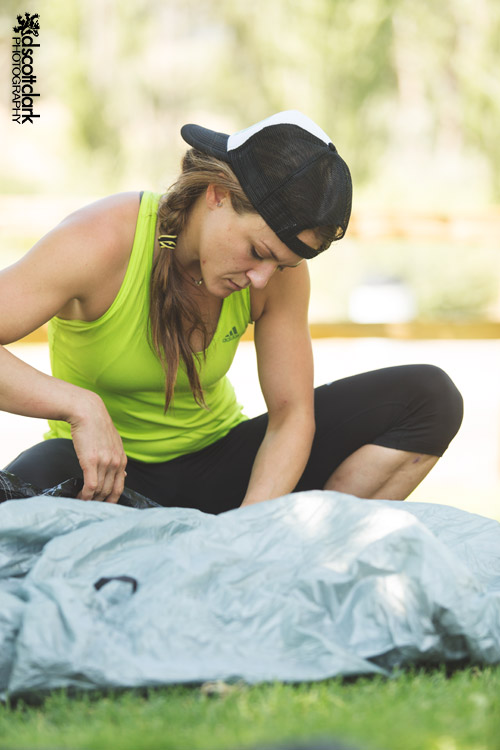 Sarah carefully packing her chute for her next jump.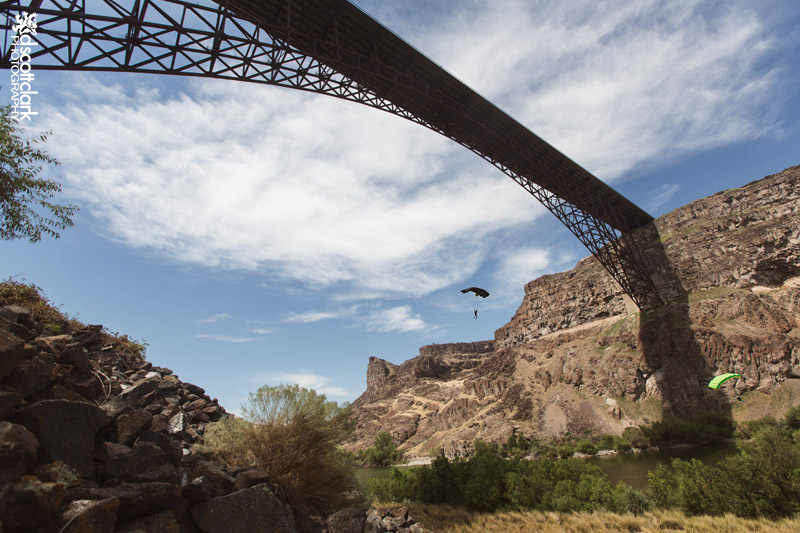 The view from the Landing Zone.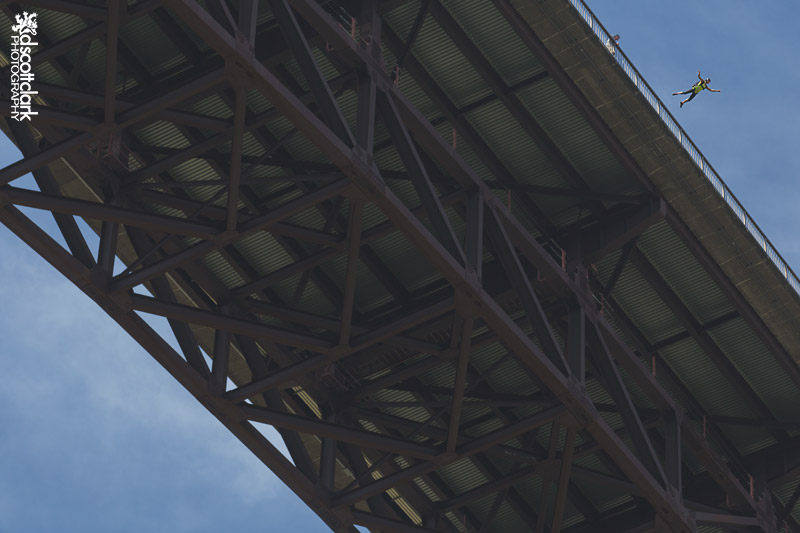 Sarah taking off
There was a near full moon on an almost perfectly clear night. I talked Sarah and her friend Nick Burden into jumping in the moonlight. I set up a couple flashes on the bridge and hoped I got a good shot in the split second. I only got once chance.
The next morning we woke up early to get a shot at sunrise. We were a little slower than we anticipated. There were a few other jumpers ready to go.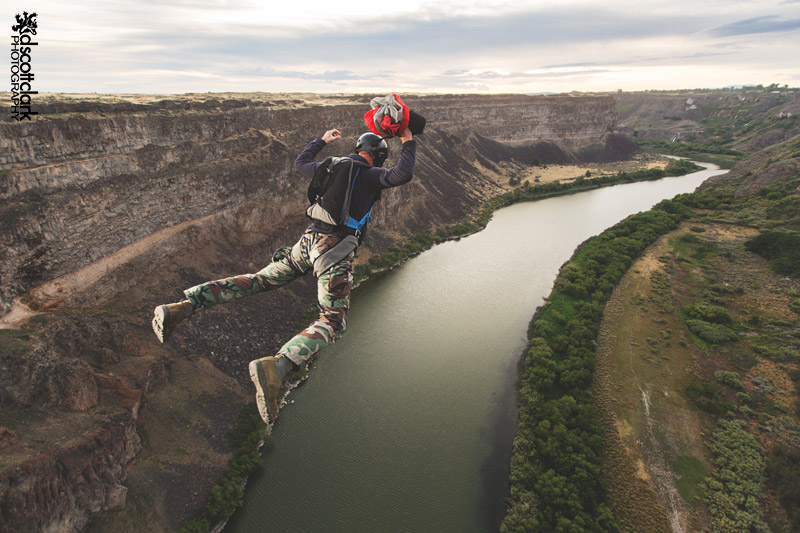 John Dobbins jumps with his pilot shoot ready to throw.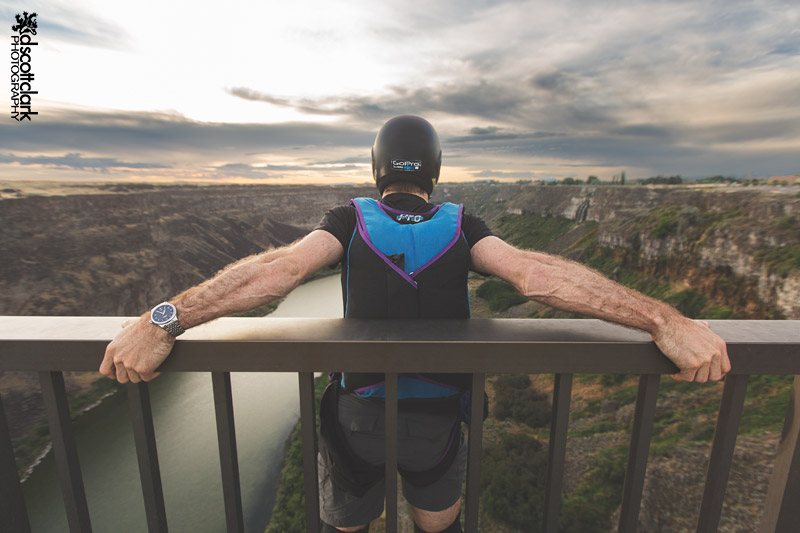 A jumper who was part of a class prepares to jump.
Climbing in Idaho's Lava Tubes
Sarah wanted to do something other than jump and we'd met a couple of young local kids that showed us a climbing area just off the river. They talked about another area 45 minutes away that was steep sport climbing. We couldn't pass up checking it out.
The Shoshone Lava Tubes are pretty unique. From the road, all you can see for miles around is upheaved volcanic rock tumultuously covering the flat earth. The shadows of mountains loom in the background, more where you would expect to find climbing. The local kid tells us to park about 100 yards off the road, and we walk for another 100 yards south, parallel with the road. You can't see it till you're standing above the giant hole. The tubes had collapsed leaving a natural arch with incredibly featured rock.
We did several fun, short, juggy routes, including a 5.12a that I flashed (woo!) before jumping on the grand route, a powerful 12c that traverses the bottom edge of the arch.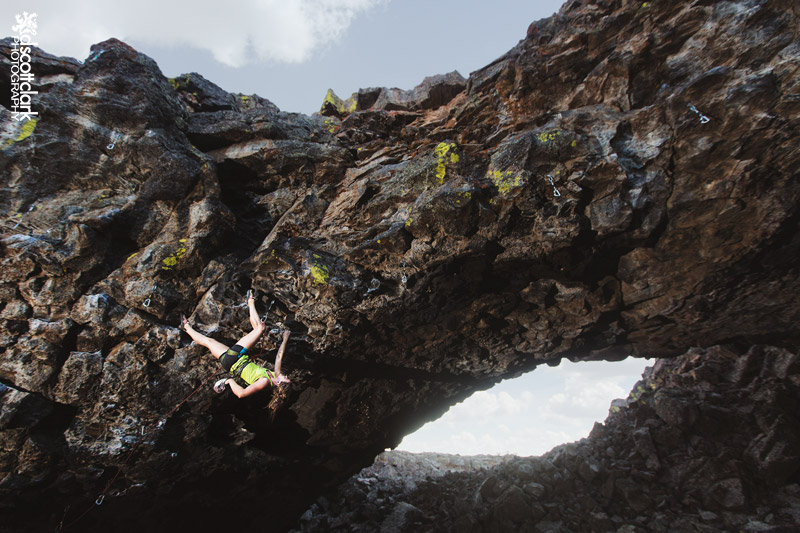 Sarah catching an inverted rest. Heel hooks abound.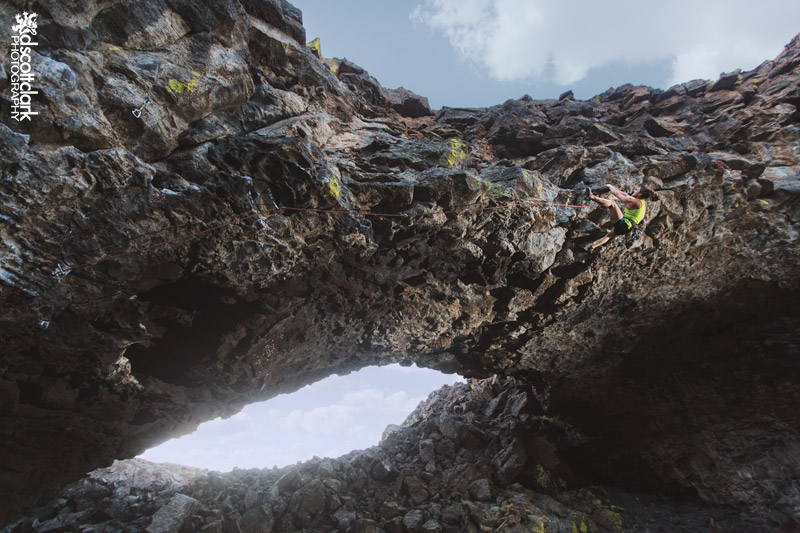 Sarah approaches the anchors.
Definitely a unique climbing spot with some great climbs. Unless you knew exactly where you were going it would be extremely difficult to find.
The Last Chance
We had one more chance to get a great shot. Shooting had proved harder than I expected, and I was determined to get a shot I was psyched on. We got to the bridge before sunrise this time, I set up my flashes and knew I had one chance for this shot. I pulled over the railing and got as comfortable as one can get in a minimal climbing harness hanging 500 feet in the air. Sarah asked, "Are you ready? 3. 2. 1. See ya!!!" I pressed the shutter only once.
The sun crested the horizon, my lights flashed, and Sarah disappeared beneath her opened chute. And then silence, except for the wind blowing gently past me and semis driving over the bridge, causing me to bounce in slow reverberations.
I climbed back over the rail and waited for Sarah to make the trek out of the canyon, since Kathy was not out yet.
Sarah wanted to do one more jump before we drove back to Colorado. The morning light was hazy and diffused. Sarah was determined to jump in good style for the photo. "Just repeat to myself, bend my legs, bend my legs, bend my legs!"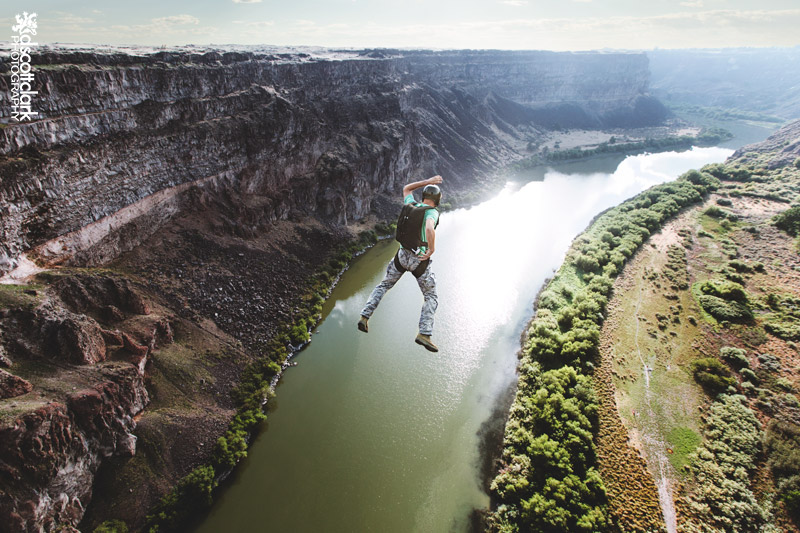 John dropping a bit out of position
John Dobbins had never jumped off the rail of the bridge before. He'd always jumped, holding onto the rail behind him. In this position you are already leaning forward which puts you in the right position to jump. From the top of the rail you have to lean forward before jumping to get into the correct position. John jumped, and I started laughing immediately. It looked like he'd done a pencil dive like a 13 yr old girl at a pool party. It looked so incredibly unnatural. But he pulled his chute without a hitch.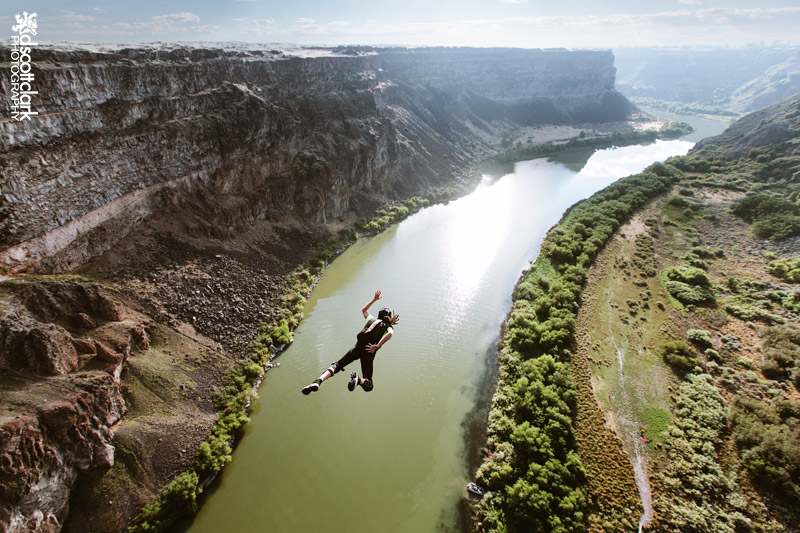 CJ Crucial takes her turn.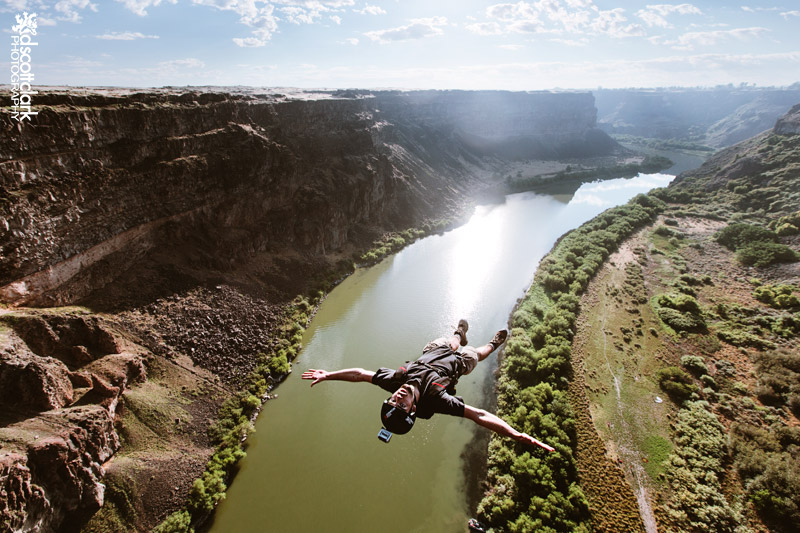 Sean Morey lays it out in front of me in a single gainer. He'd been doing tucks every time he jumped and I was surprised to see him looking me in the eye as he dropped in front of me.
We take off after her second jump and head towards Rifle Mountain Park, outside Rifle, CO.
The trip continues for a few more days! It's been an awesome trip, but I'm getting antsy to get back to Boulder.