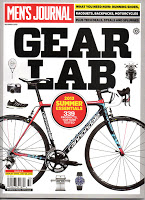 I got a text from my friend Broderick yesterday morning. "Men's Journal? nice work!"
I was very confused. I've never submitted anything to Men's Journal. Then I took a look at my Tandem Stock site. There were a couple of pending payments. I wrote to Tandem and they said, indeed Men's Journal had purchased this image for use. I went to the store and picked up the magazine. There it was, Page 11! It's a nice spread. I'm psyched to have my shot in such a high profile magazine, but it would have been nice to know that was happening.
Thanks to Broderick for going shooting with me a couple of years ago.