Xavi paid the tuk tuk driver, since I had had my wallet stolen in Vientiane. Luckily, Green Climbers Home operates on a credit system, and you pay at the end of your stay for lodging, food, and anything else. Because of this, I had 9 days to figure out how to get funds for the rest of my trip.
Side note:
Back in the early fall my buddy, Scott Homan, had mentioned that he was going to Laos to meet up with Xavier and climb. He – kind of – invited me, and after a rough fall, I figured a trip like this was just what I needed.
Green Climbers Home sits in a valley surrounded by tall limestone mountains that jut straight up out of the flat earth.
The resort is two large thatch-roofed buildings resting on stilts surrounded by bungalos, also on stilts. Apparently it floods every year. There are also two dorms, and two areas of tented camping. I think in all they can accommodate about 100 climbers at a time.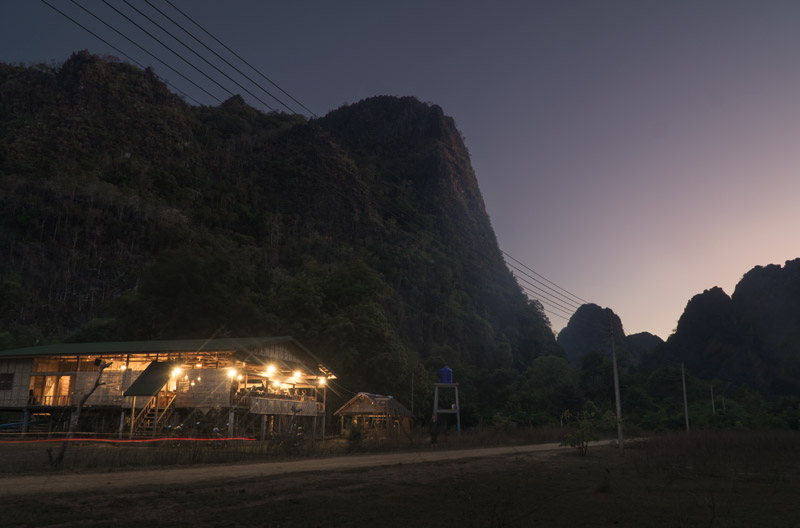 The climbing is super steep, varied, fun limestone climbing over pockets, tufas, and stalactites. Endurance and core power is the most important thing here. For me, this was mostly a climbing trip, and I barely took my camera out. But by the end of the trip I was feeling that I couldn't leave without having a few climbing photos.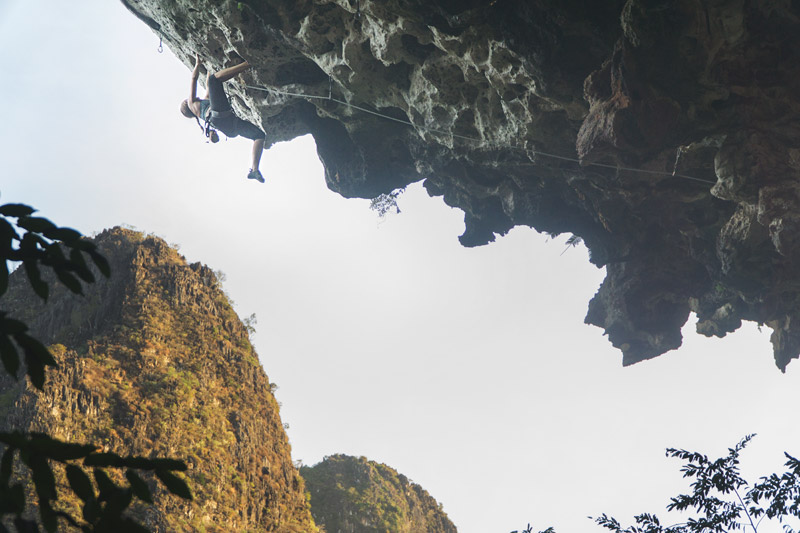 A climber works up Jungle King (7b) in the Roof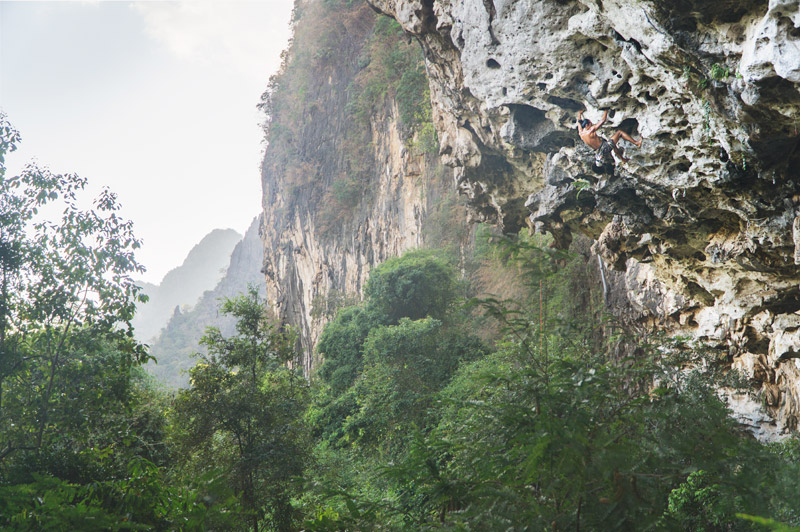 Xavi climbs Jungle King barefoot, because...he can.
An incredibly strong, older Japanese woman gets the send on Jungle King. Everyone was in awe of her grace.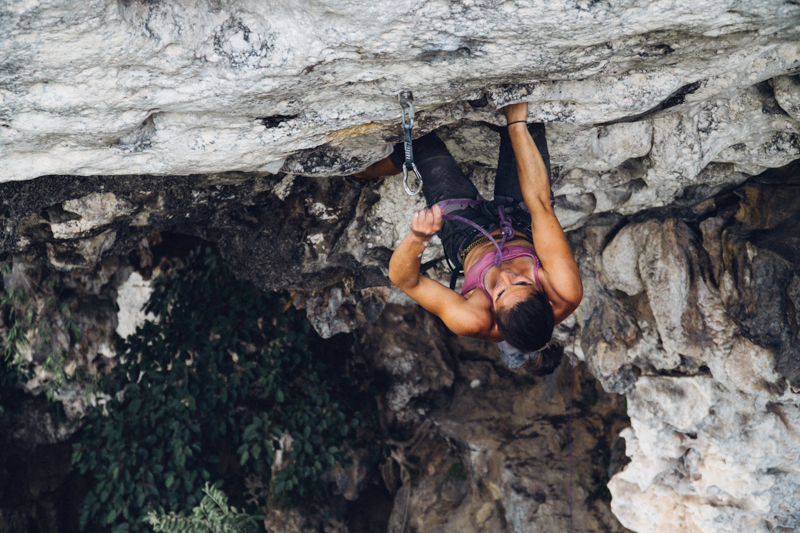 Diana Wendt got the send on Jungle King after a few tries. My endurance kept me from getting this 
beautiful route.
Chrissi Kuehn and Pete? climb two roof routes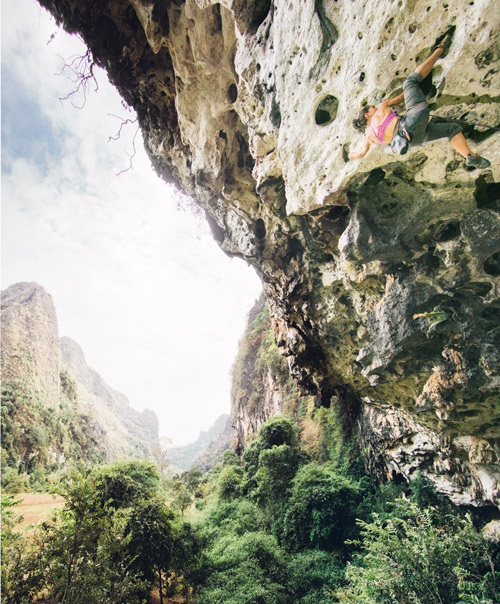 Diana prepares to make the crux move on Jungle King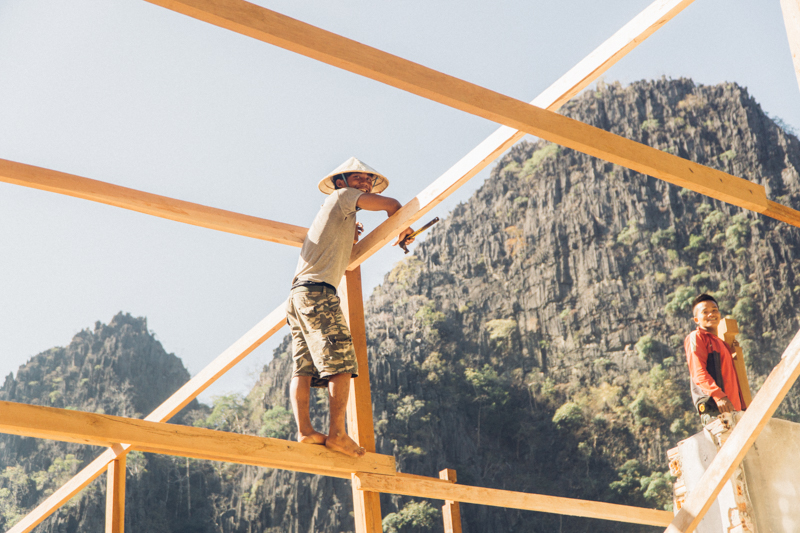 GCH's original restaurant burned down last fall, so they were busy rebuilding it in the same spot.
I slept in a tent for nine days. It was pretty comfortable, but I was very happy it was not any hotter than it was. The tent was not really made for the tropics, having almost no ventilation. But it was about 100 feet from the river that runs through this cave, so I could go for a swim any time I was over heated.
The cave is pretty incredible, a huge cavern with three entrances. Standing on this rock, you can see two of the entrances, but the third, you apparently have to go wading through chest deep water for a while. I didn't go explore it.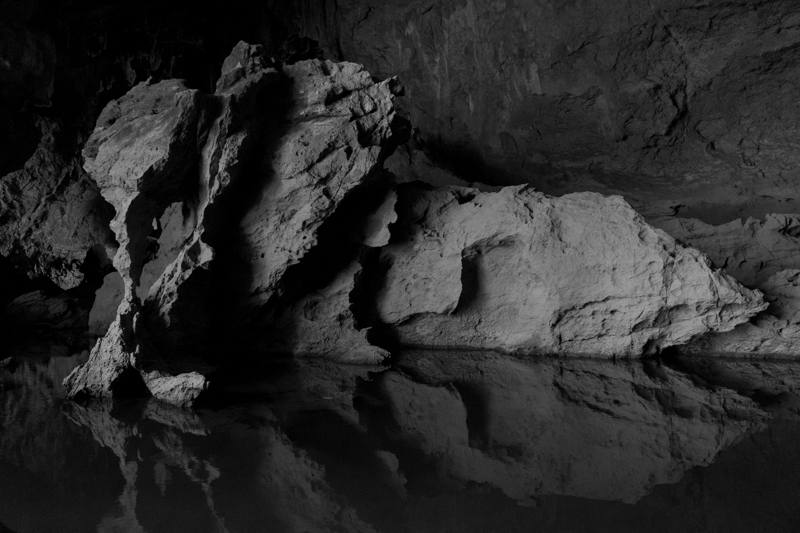 Xavier and Scott made plans to shoot a short film with Richard Seisl, who wanted to put up a highline (slackline) up in the mouth of the cave. They asked me to help shoot the video. I couldn't not take stills too.
The morning light coming into the cave was killer!
Here's the finished video, I shot most of the wide angle shots and a few of the details.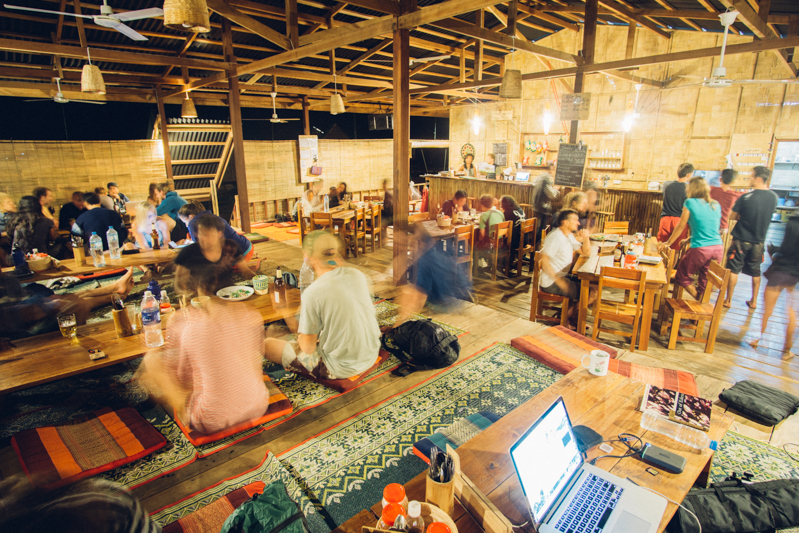 The restaurant's usual state at night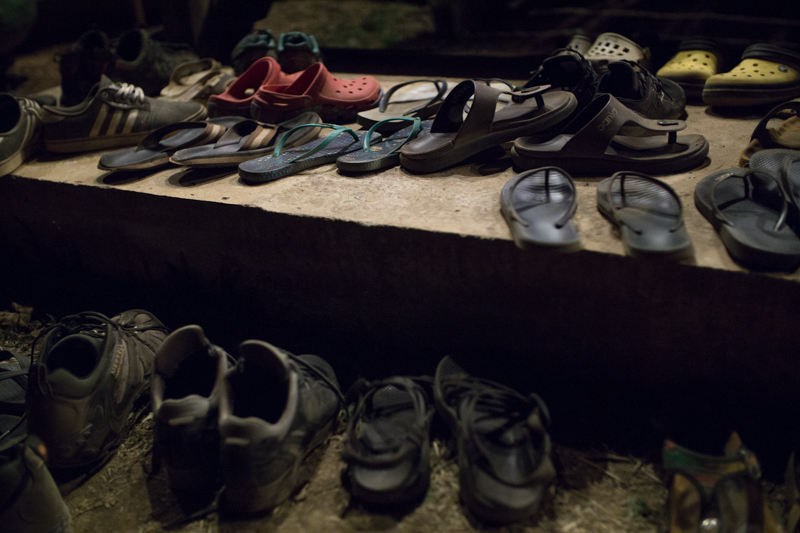 No shoes allowed in the restaurant.
Green Climbers Home is a fantastic destination for climbers in Southeast Asia. I recommend that you check it out. I'd love to go back. I do wish that they would fix their shoddy anchor systems.
Message to Green Climbers Home: It's incredibly frustrating and dangerous for us climbers. If it's because it's expensive to buy chains, charge everyeone an extra dollar. That's plenty to fund changing out all of the expired climbing rope tying together two traditional metal hangers and a single hardware store d-link. You don't want to wait until your "genius", cheap, dangerous method fails.