The first pair of skis I ever bought myself were a pair of twin tipped fatty pow skis from
Bluehouse
. They were amazing; I'd never experienced a ski like it. That's not saying a lot. Since I was three I grew up skiing on whatever hand-me-down came my way. I ripped on 195cm skinny skis from when I was tall enough to reach their tips. But, truly, these Bluehouse Maestro's were FUN!! They were playful and responsive. They were great to jump on, fun to carve on groomers, and amazing in deep powder. I didn't know it could get any better!
I did recognize one their weaknesses, but I had no idea of the extent: Crud. I got bounced around like a rag doll, precisely because of why I enjoyed them. They were too playful and couldn't power through rough, choppy, end-of-the-day-on-a-Colorado-powder-day crud. Before last season I got a job selling skis at Boulder Ski Deals. Needless to say, I learned a LOT about skis I never knew before. I had never realized how soft my Maestro's were until I compared to a lot of skis on the wall.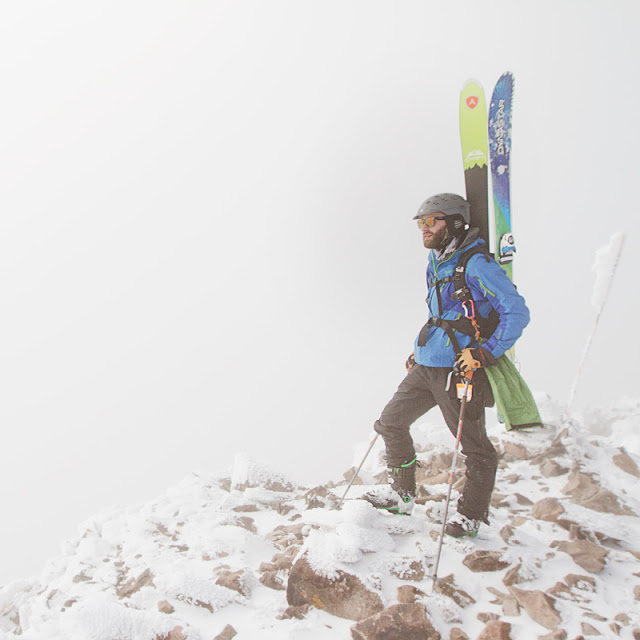 Hiking Alberta Peak at Wolf Creek Ski Area in Southern Colorado with my Cham 97's on my back
Dynastar's Cham 97's are completely different. They're incredibly stiff skis, especially compared to my Maestro's. These are crud blasters that won't get bounced around by any amount of the rough stuff. They have a unique shape, with a large sidecut, fat tip with lots of rocker, and a flat pin-tail…tail. At 97mm in the waist, 133mm/113mm in the tip/tail and 16m turn radius, these things rip. (Sorry for all the tech talk)
With the 97mm waist and 16mm turn radius, the Cham's are easy to rollover on groomers. I cannot overstate this, they LOVE to turn! You can make the turn anything you want, from long GS turns to quick slaloms. You'll feel stable putting it up on edge. The rockered tip gives you easy turn initiation and grips along the full ski. Though, be warned. This is not a beginner's ski.
Where I've really found the Cham 97's shine is in powder. I've never felt a ski handle like this in the deep stuff. If you were out with me when I discovered this you would have heard a lot of "THIS IS AMAZING!" and "WOO HOO!"'s. The narrower pin-tail stays low in the snow, making it super easy to keep your tips pointed up in the powder, even with your weight more forward. The wide, rockered tips float effortlessly. Making turns in this position is incredibly easy; I felt like I was barely pushing the tails to make grand turns. Skiing the powder was…bouncy. It felt so light and easy to maneuver. In contrast, I always feel like I'm dragging my tails in my Maestro's.
So, in other words, I love these skis; they are fantastic. But that does come with a caveat or two. Jumping can be uncomfortable. No, scratch that. Landing can be uncomfortable, especially on hardpack. Where the Maestro excels in being springy and playful, the Cham's are stiff and unforgiving. The extent to which this matters depends on your skiing style and preference. Secondly, the Cham's are heavy. Weighing in at over 10lbs for both skis, you will think twice about making these part of your backcountry set up. They do come in a High Mountain version that reduces the weight by 25% but sacrifices some of the inbounds performance (this only really matters if you plan on skiing them inbounds).
Not surprisingly, the Dynastar Cham 97 won Outside Magazine's Gear of the Year award in 2013. If you like to charge, ski the entire mountain, and want a ski that can do it all, I highly recommend this one.