I've gotten more ski days in this year than ever before. I think I have 17 days on snow, which is not a high number for many Coloradans. But it's a huge improvement, and I've spent many of those days in the backcountry. I'm excited for spring skiing and getting out more.
A couple weeks ago I got out with Will Butler to Emerald Lake in Rocky Mountain National Park, on a warm Saturday morning in early March. The skin up to Emerald Lake is not difficult and goes by quickly. It was my first time in the backcountry with my new Black Diamond and Dynafit set up (and it was glorious!)
We had met two friends in the parking lot who had never been up in this zone and invited them to come with us. It was good to fill out the group.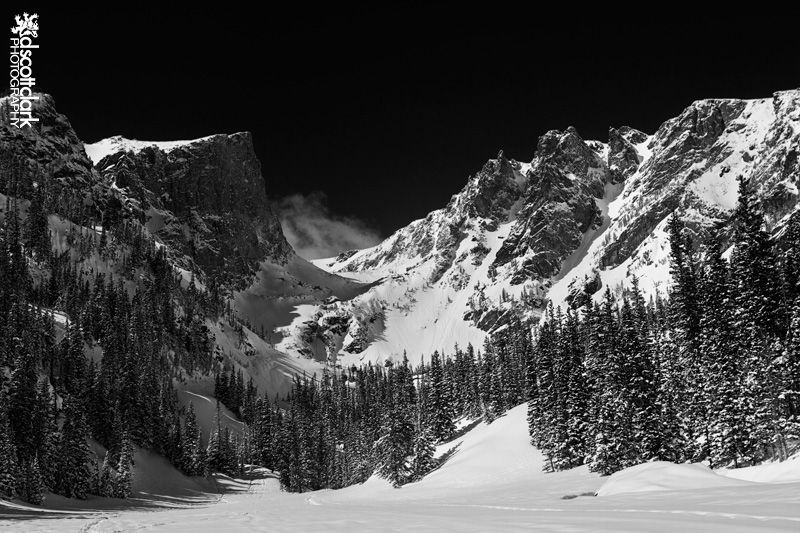 I know I already posted this, but, well, I like it. The view of Halletts Peak from Emerald Lake. Dead Elk and Dragonstail coulouirs are the steep couloirs on the right face.
Will Butler, Garth Fasano, and Peggy Tautz skinning up below Dragonstail Couloir. It is steeper than this photo makes it look.
We debated what to go up. There were some natural wet avalanches being triggered in and around Dragonstail, but the slope between Dragonstail and Dead Elk looked to be more stable, and others had already skied it this morning. We follow their skin track to a safe zone between the two couloirs. Garth and Will contemplate trying to cross the slope to a larger ridge line past Dead Elk, but since things are sliding around us I thought it best to get down as quickly as possible in the zone we just came up.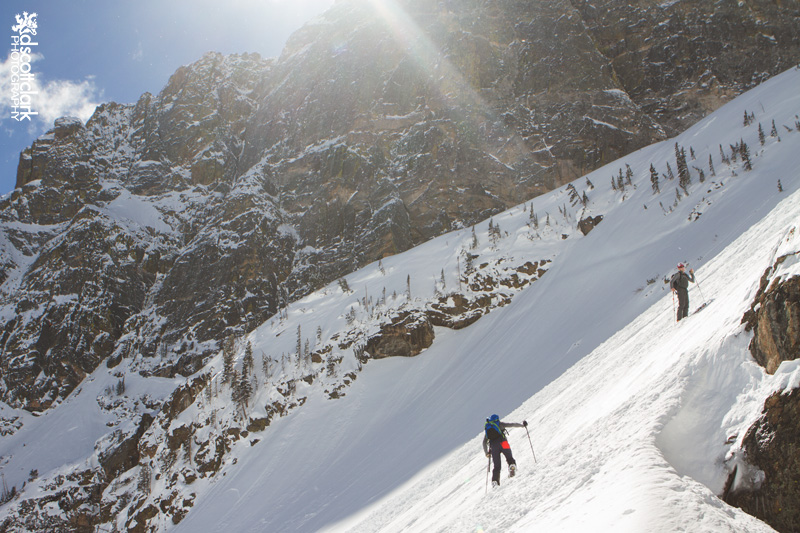 As Garth and Will try to get a better look a slide comes down Dead Elk solidifying that we should get down as soon as possible and we should stay in the zone we "know" is solid.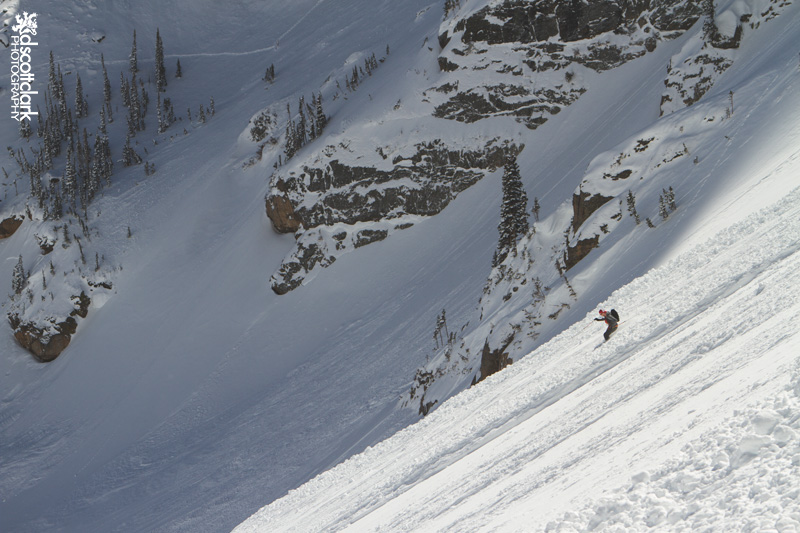 Garth crosses some of the debris to get to some fresh snow. I follow him up, staying in the debris field a little longer. When I pop into the fresh snow, its much heavier than I expected, having been warmed in the sun all day. It was still bouncy, grin inducing skiing.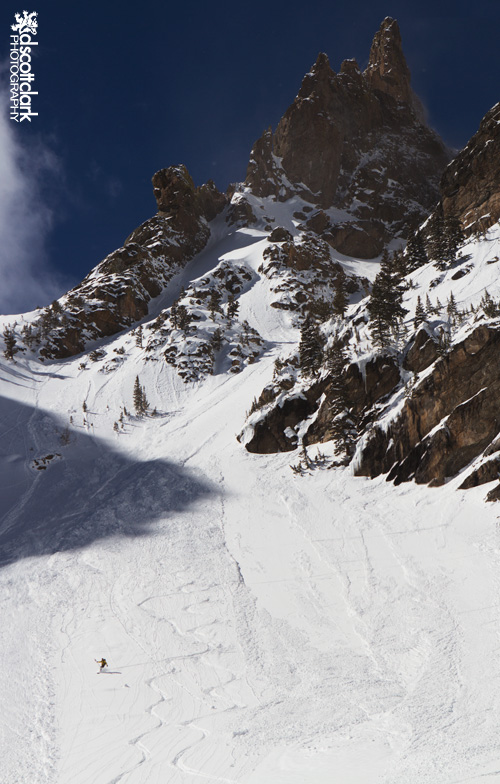 Will cuts some turns in the soft but heavy, super wet snow below Dead Elk Couloir. All the debris around are from wet avalanches from the day's heat.
We decide to stay on the north face and end up in some really nice snow directly below Halletts Chimney. This snow, protected by the mountain, was in much better health. It's amazing how much aspect makes a difference in snow conditions.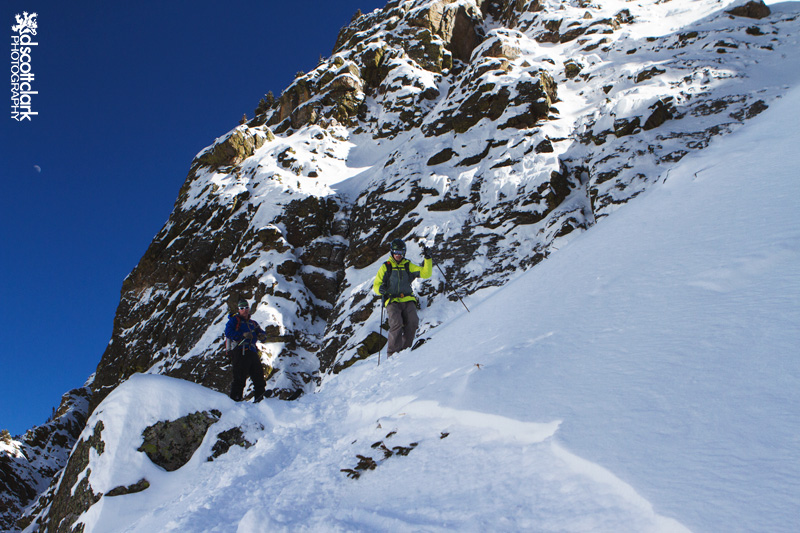 Another group preparing to drop in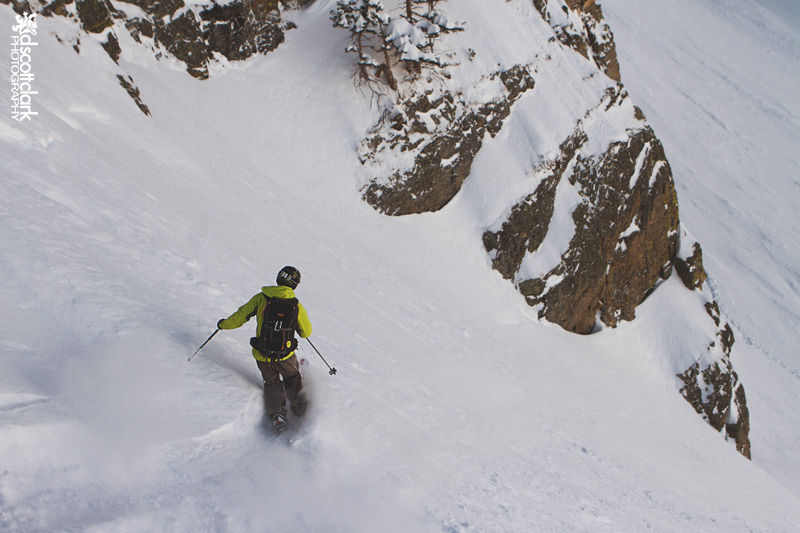 Making some pretty tele turns down the steeps.
We take one more quick lap before calling it a day. I will definitely be back up here. I'm looking at you, Dragonstail!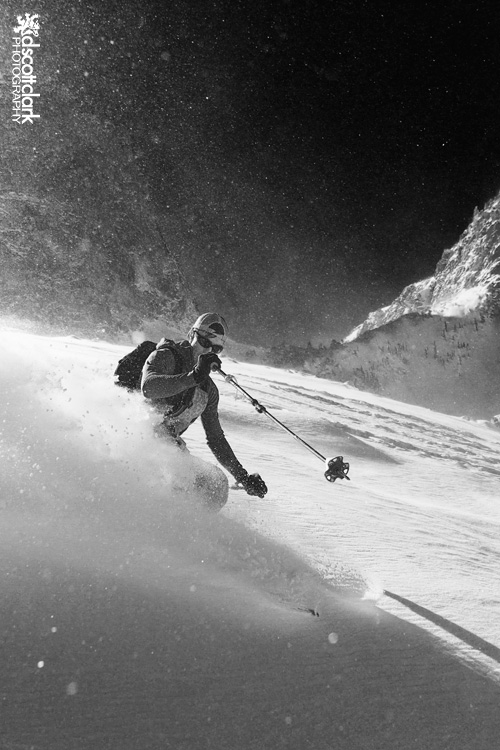 Garth enjoying some fine powder.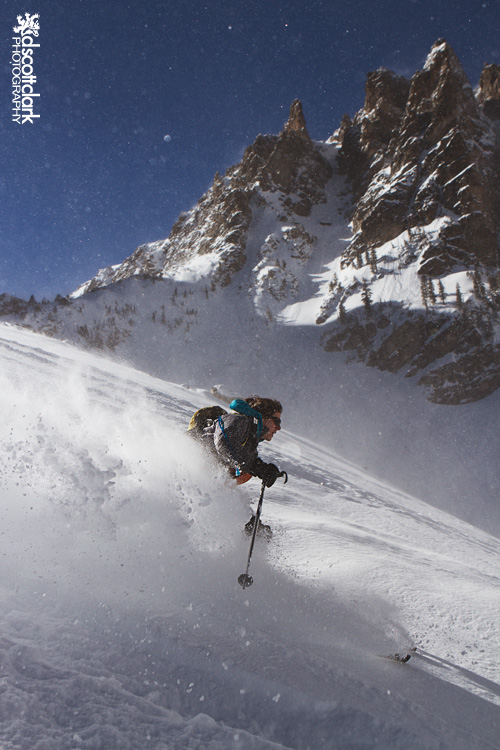 Peggy making a slash