I bought a 2014 Ram Promaster 159″ 3500 Diesel and moved into it with my girlfriend. This was my first time really building anything, and I'm psyched with how it came out!
Introducing Willard the Red Whale!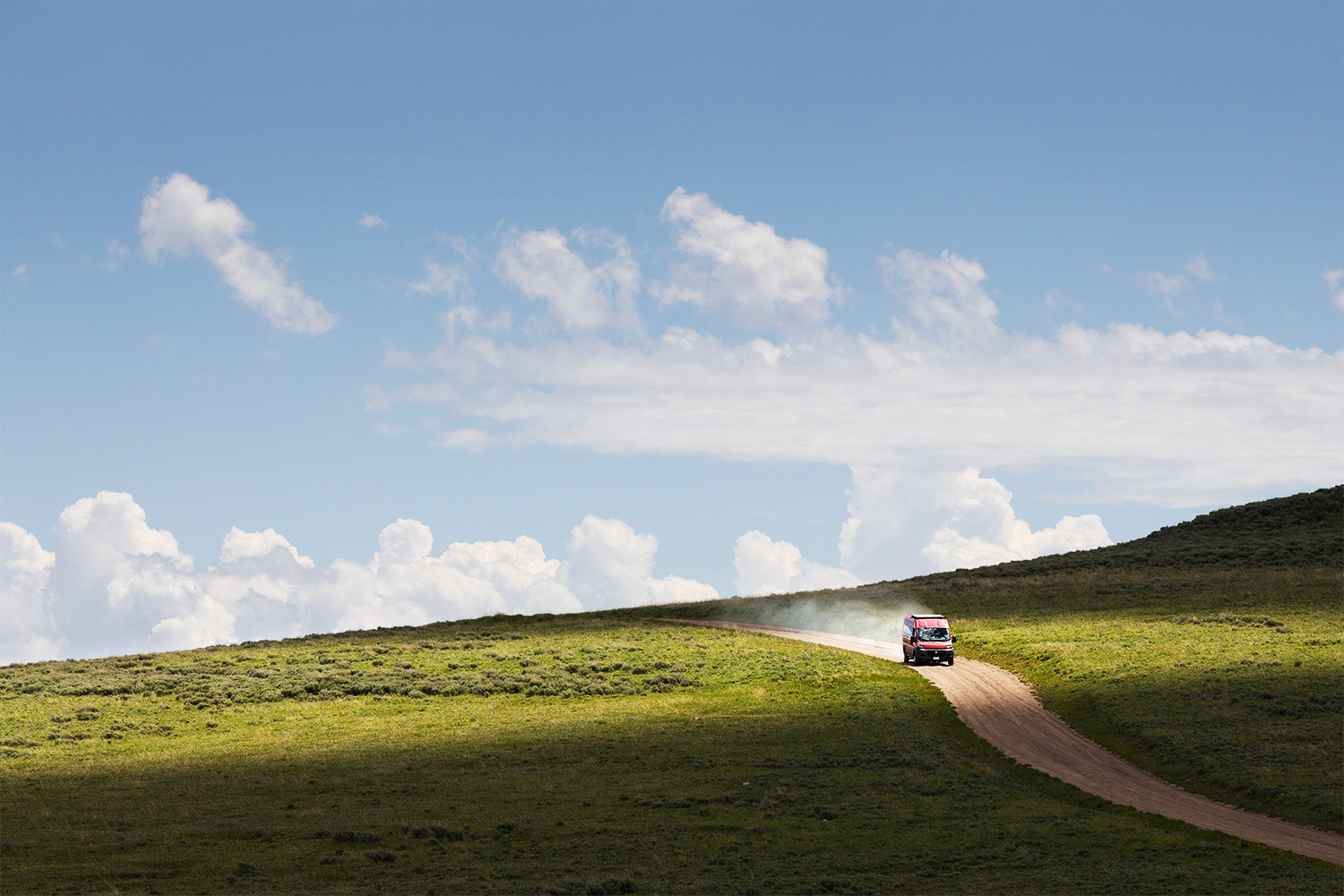 I was driving down a dark road in Kentucky last fall thinking about my living situation and what I wanted to change. I calculated that I was spending $10,200 each year on rent alone and wished I could buy a house in Colorado to stop the flow of cash into the great void, but buying in Colorado is quite cost-prohibitive. Half a million dollars is a pretty high barrier to entry. In the climbing area I was in, Red River Gorge, there were more converted vans than I'd seen before. Every crag parking lot was overflowing with white cargo vans. I started calculating how much I could afford to put into a van and live in it.
In January, I started looking at pre-built options – the $120,000 Winnebego Revel and a sixty-some thousand dollar build by VanDoIt, but none of the prebuilt options really satisfied my vision for a van I'd live in. (I seriously don't understand RV designers' use of space. There are so many unnecessary things and they waste so much precious space without giving you any storage options. I don't want to sleep 9 and drive 6, I want to sleep and drive 2 people and have the most possible storage.)
I was going to be moving into the van with my girlfriend, Genevive, and she didn't like the feel of either, they were too industrial – they didn't feel like home. She pushed me to do the build ourselves. I was hesitant since I'd never built anything before, but after checking on financing and realizing that pre-built wasn't even an option, we started looking at vans we could build out.
I had a deposit down on a 2019 Ram Promaster 159″ 2500 gas, but the dealership screwed up my financing application. They initially told me that no one would finance me for less than 13% interest. So I started looking at used Promasters and found a rare diesel down in Colorado Springs that was bright red! I'd heard some really terrible things about the gas Promasters reliability, but reading the forums about the diesels, the owners seemed to love them. This was enough to convince me to spend $13,000 less.
We bought the van March 15th and unofficially finished the build June 28th or so. In that process, I learned a hell of a lot. Firstly, you can learn to do almost anything on Youtube. Second, take your time and measure the hell out of everything. Also, having a pretty good idea of where you want everything to go before you start is quite helpful.
We made one major mistake, we insulated the entire thing before knowing how we were going to install the walls…and we had to tear out a ton of insulation to put framing in to attach the walls and ceiling to. Definitely frame out the walls before you do almost anything else. Also, use star-bit wood screws; Phillips head screws strip worse than your adopted daughter. Other than that, I'm extremely proud of what Genevive and I built!
Some stats:
2014 Ram Promaster 159″ turbo-diesel 3.0-liter four-cylinder (Fiat Ducato)
Cherry Red
560watts of solar (2 x 180w, 1 x 200w)
Goal Zero Yeti 3000 (280ah lithium, 1500w inverter)
2″ of Polyiso insulation on walls and ceiling, 1/2″ of XPS on floors. The fiberglass that came with the van was stuffed into the ribs. I would definitely do something different in the future, but this was "free" insulation. We taped off all the holes in the ribs to limit the amount of fiberglass that can travel through the cabin.
CRL Awning style bunk window (Highly recommend!)
CRL OEM style frameless clamp-style window for sliding door. I would probably go with the glue-in if I were to do it again. It looks much better.
1/4″ Knotty Pine Tongue and Groove 8ft planks for the walls
1″ Pine Tongue & Groove Shiplap 12ft Planks for Ceiling
I custom built the upper cabinets and put Ikea doors on them. Highly recommend.
Base Cabinets are Ikea Sektion with custom 1×6 bases so it got us to 36″ height with a 1″ (3/4″) stainable pine countertop from Lowes
130L Truckfridge. Highly Recommend!
6gal water tank with Bayite water pump (would not recommend the pump)
Here's the build process! I'll add videos later.
Keep scrolling down, images will eventually load

Thanks for checking out Willard!