My time at Green Climber's Home in Thakhek, Laos was great, but after nine days I was feeling pretty beat up and ready to move on. I knew I wanted to spend a couple days on an island and determined that Cambodia made the most sense on my trip trajectory.
I said my goodbyes to my new friends at GCH, and with a few other climbers, took a tuk tuk to the bus stop. I was going to Pakse with no plan other than to find transport to Siem Reap as soon as possible. When the bus arrived in Pakse I ended up meeting a couple from France that was also on the bus and we went in search of hostel together. The only thing availble we could find was single room with two beds, so I shared a room with this couple I just met. In the morning, I snuck out before they woke up to catch the early bus to the Cambodian border.
The Cambodian border….
Before the bus stops at the border, we pick up a man that gets on and says he will streamline the entry visa process for everyone, but there's a catch. The entry visa is $40, but the man wants $50 from everyone. I already had my entry visa, so I just ignored him. Turns out the extra $10 was for bribes to the Laotian and Cambodian border guards. I went through on my own.
I passed my passport through the window to the Laotian guard, he looked up and asks for the $5. "I'm not paying you extra just because you're doing your job." He looked at me, frustrated, fliped open my passport and stamped something in it. He quickly handed me my passport back and yelled "next!".
I followed the slow-moving, confused crowd across no-man's-land to a medical tent we were directed to. They pointed a thermometer 'gun' at me, tell me to fill out a form, then ask for $1. I just stand up and leave. They're supposedly checking for Ebola, but neither border requires the form, so therie's no point to do this or pay for it.
100 yards from the Laotian border, I handed my passport to the Cambodian guard. He looked at my already purchased Entry Visa, peers up at me, and asks for $5. "I've already paid for my Entry Visa. I don't owe you any more money." He flips through my passport book and hands it back to me without stamping it. "You don't have an exit stamp from Laos." I don't know what the Laotian guard had stamped, but he hadn't actually shown that I was leaving the country.
I scurried back across no-man's-land, worried that the bus would leave me. I might have made little bit of a ruckus as I returned to the Laotian border, demanding that they actually stamp my book. Finally, one of the guards reluctantly gave me the stamp I needed to "leave" the country. The Cambodian guard looked at me with equal disdain, but stamps my visa anyway and allows me to enter.
I guess I should be more careful with border guards, I'm entering their country, but I refuse to pay bribes.
After waiting around for hours at the border, we're loaded onto a small micro-bus. I get set in the front passenger seat, and all our bags are loaded as a barricaded between me and the rest of the passengers. I effectively had a 6-hour private car ride to Siem Reap.
I took a dorm room bed at Garden Village Guesthouse, at the recommendation of the bus company. It was a good price, and it had a pool (highly recommended). I ended up meeting some great people here.
Siem Reap is a pretty nice town, with something for almost every type of traveler. The draw for travelers is definitely Angkor Wat, but I met several ex-pats just enjoying living there as well. Good cheap restaurants line the tightly winding streets that run into the river. Along the river, there are more expensive places. There's a party scene, and quiet areas.
I couldn't decide if I wanted to pay the $20 for a day pass into Angkor Wat. I typically don't pay to go into things when I'm traveling cheap (and I was surviving off a fixed amount of cash that I had borrowed from Xavi), but some friends convinced me it was worth it. As I was considering what to do, I rented a bike and spent a day trying to connect with the locals, something I hadn't really gotten to do on my trip so far. I do this by taking portraits of the people I meet.
Ice delivery. Might be best to avoid ice in your water.
There was a pretty girl selling fruit, but she wasn't keen on having her photo taken.
So I shot her fruit.
I've eaten a lot of fresh coconuts, but this was definitely one of the best I've ever had. The meat was so delicious!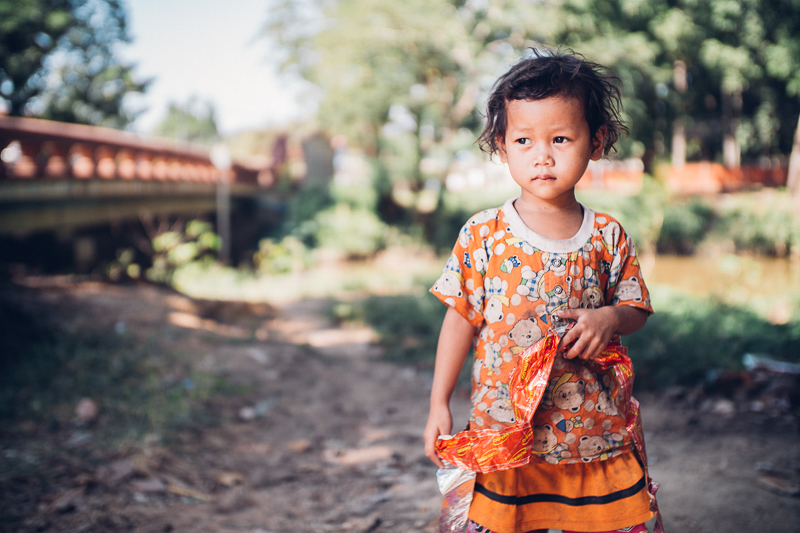 I sat and watched these kids for probably 20 minutes, jumping into the river with pure joy.
I ended my exploration of Siem Reap at a large temple that was a bit past where most of the tourists go. It was quiet and offered me some shade from the blazing sun. I don't often spend a lot of time in temples, but I enjoyed a lot of the quotes attributed to Buddha engraved on a lot of the statues.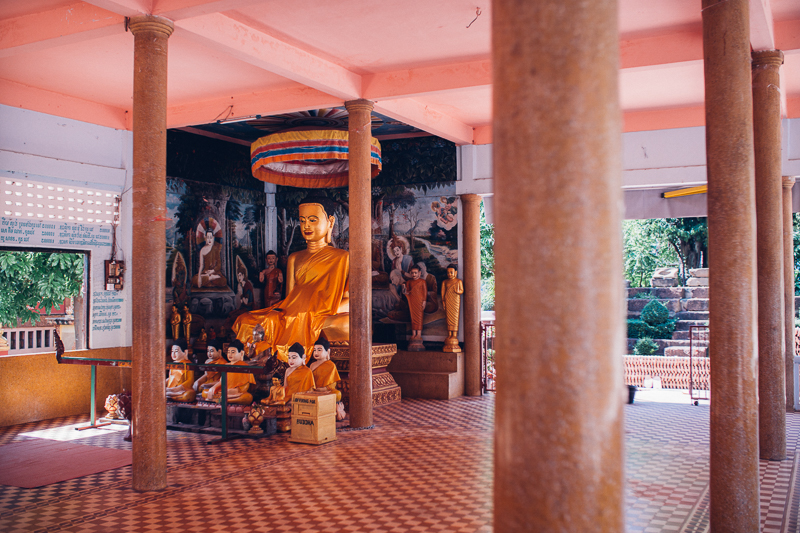 Next: Angkor Wat. Be sure to subscribe!