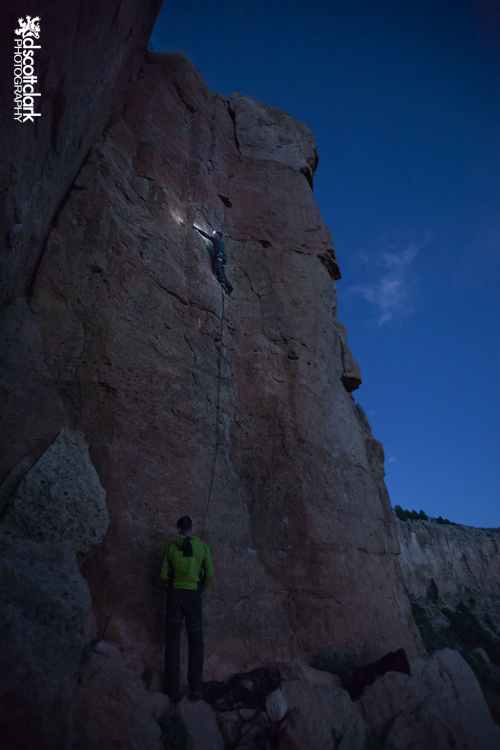 Climbing just after dark on the fun LaCholla Jackson, 5.9, at Cactus Cliff.
Kevin and I had been wanting to take a trip to Shelf Road for a while. We're always talking about doing it, for some reason or another it failed to materialize. Shelf Road is a popular climbing area in the colder months, just outside Cañon City, CO. The white walls in the desert seem to collect the sun, and the average temperature while climbing in the sun is well above that of the surrounding areas. Most of the one pitch routes up limestone cliffs tend to be vertical with sharp pockets but fun movement.
Frank meets us at the Bank parking lot. For a beautiful Saturday in early November the parking lot is surprisingly unpacked. It's a quick hike to reach the the Cactus Cliff area, one of the most popular in Shelf. There are a few people there, but not the climbing gym madness we were expecting. We warm up on the classic but stout Dihedrous, a dihedral crack that goes at 5.10c but I tend to climb it like it's an 11b. Several more classics go down, and we end the night climbing by headlamp on a fantastic 5.9 called "LaCholla Jackson."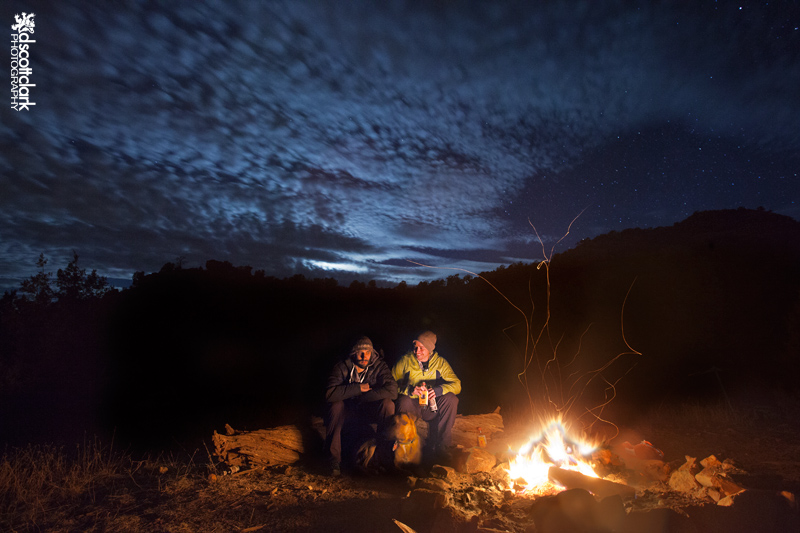 Frank and Kevin enjoying the campfire. Camping out under the stars is one of the best parts of going to Shelf
We go back to our favorite campsite on BLM land (read "Free") and enjoy the rest of the night.
Some random lifestyle images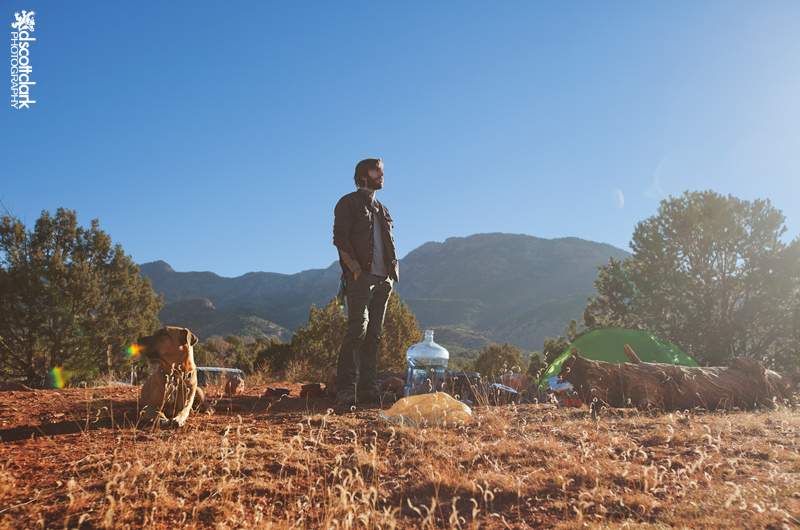 Kevin and Whiskey posing so heroically.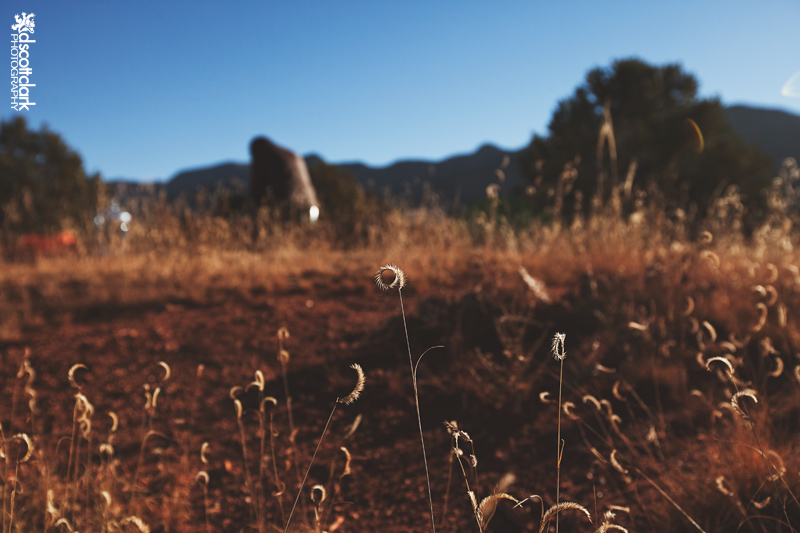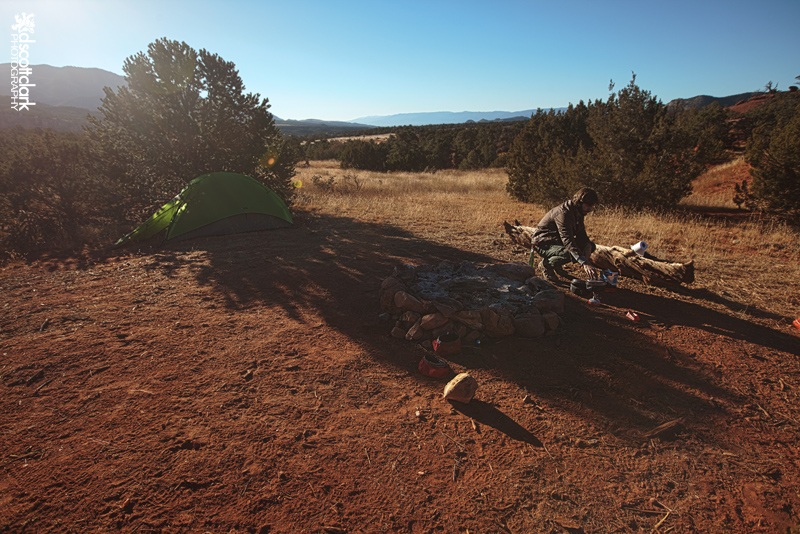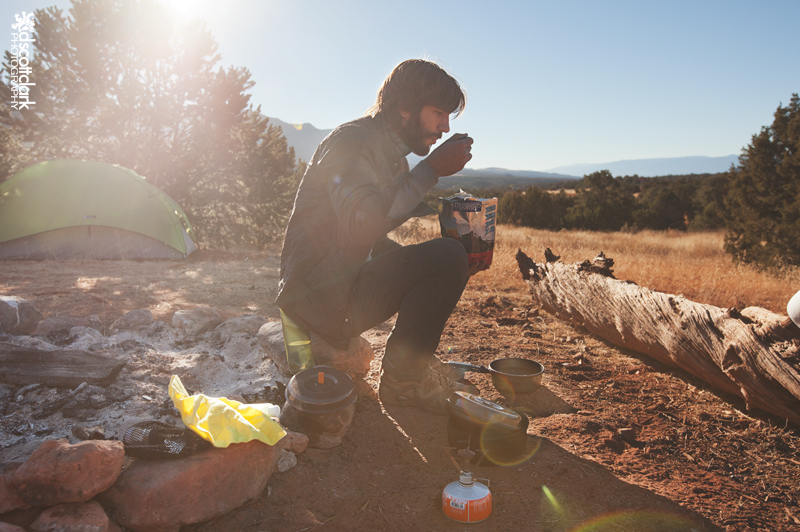 Breakfast from a bag.
Sunday morning we hike from our campsite in front of the Gallery to Menses Prow, a large cliffline between the Farside and Mural Wall that can be seen from miles away. In the morning it's fully in the sun. We decide to warm up on The California Ethics Pinnacle, which offers some easy but very aesthetic climbs, and offers us welcome shade since we'd spent the entirety of the day before baking in the sun at Cactus Cliff.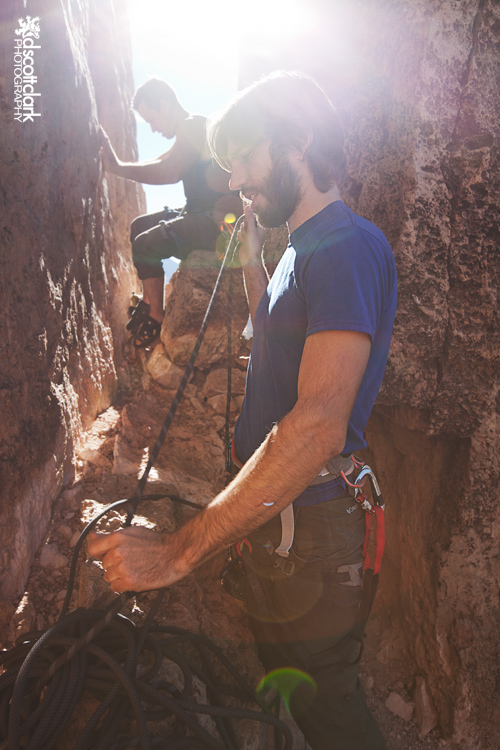 Kevin flaking the rope before Frank climbs the Original Route (5.8) on the California Ethics Pinnacle just off Menses Prow.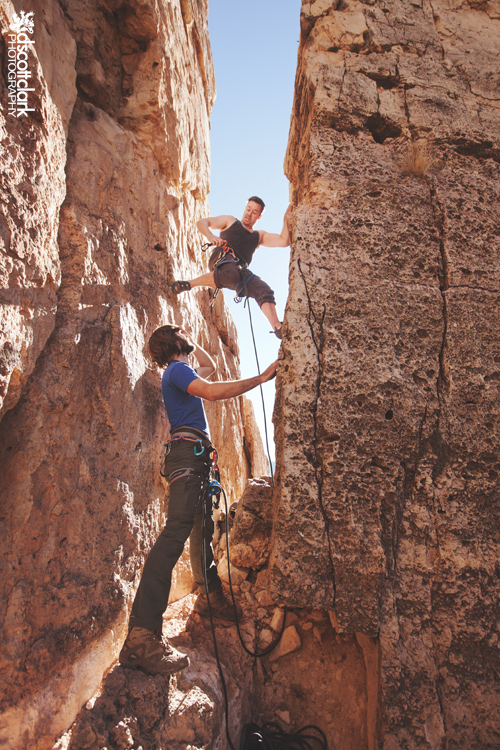 Some stemming action on The Original Route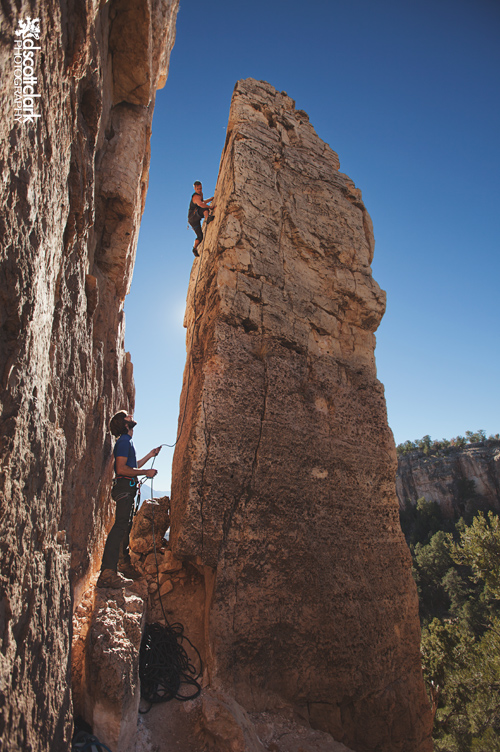 The California Ethics Pinnacle is a very cool looking rock feature.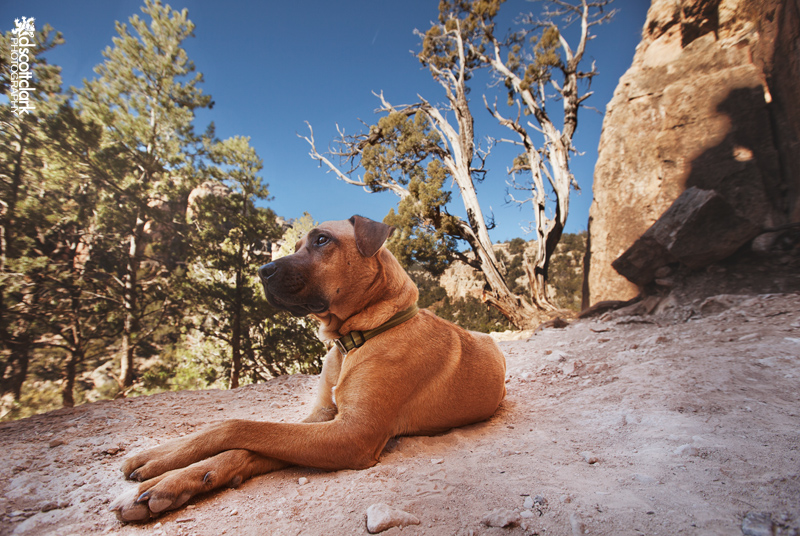 Whiskey so properly keeping watch.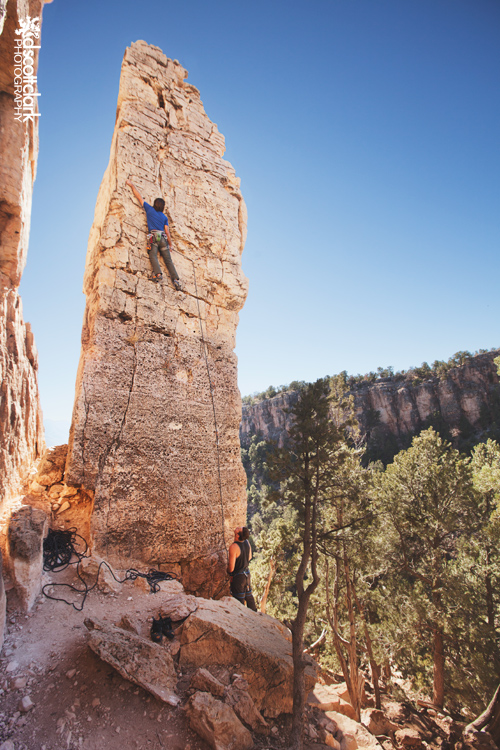 Kevin climbs "Red Dog" 5.9 on the California Ethics Pinnacle.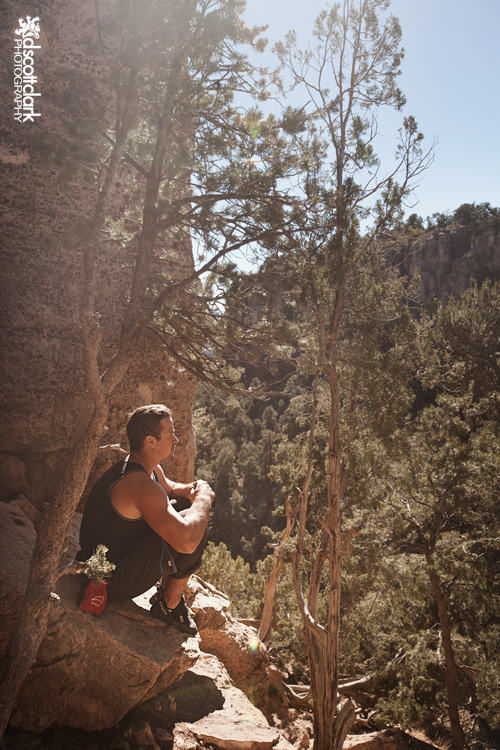 Frank looking contemplative.
Frank took a photo of me climbing "Slender Fungus" an interesting 5.10c with a second pitch. I apparently didn't continue reading in the guidebook to see that the second pitch goes at a very sandbagged 5.11b. Climbing it in one pitch, I would personally rate it 5.11d. It was stout.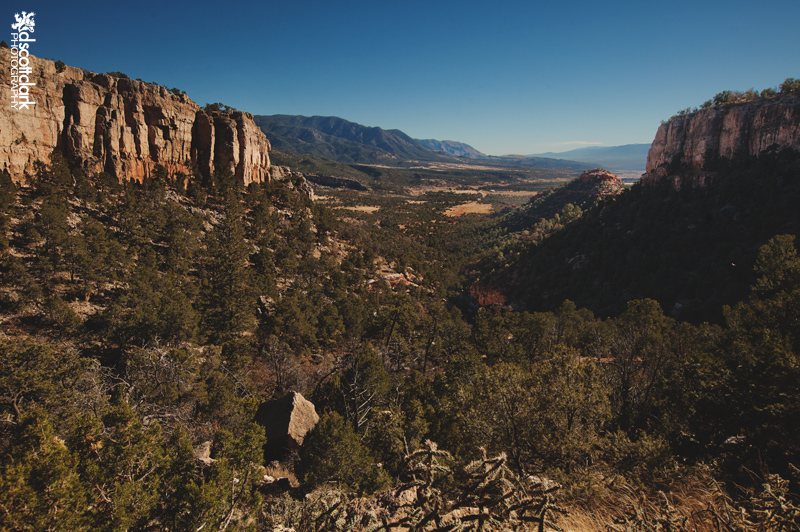 View East from Menses Prow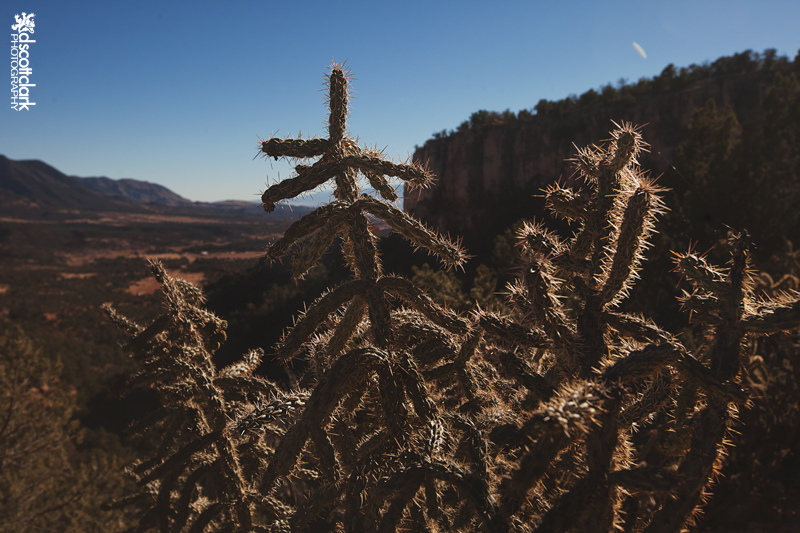 Cactus at the base of "No Passion for Fashion" 5.11c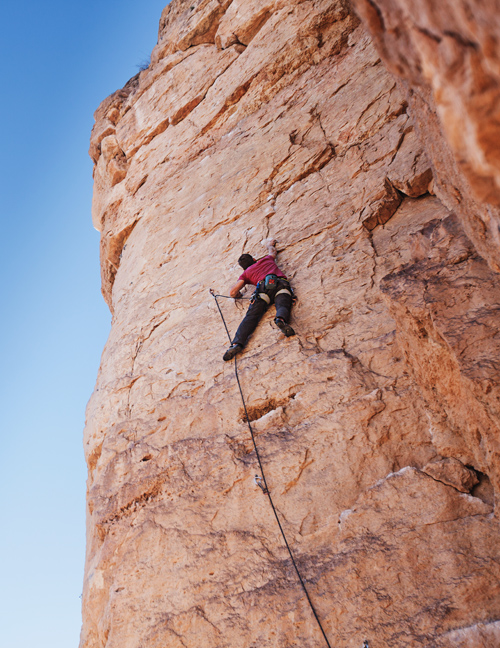 Kevin snapped a shot of me climbing "No Passion for Fashion"
We ended a great weekend with a fantastic climb, "No Passion for Fashion" 5.11c. It is definitely one of my favorite climbs at Shelf. With sustained great climbing on a long route, it tops my list.
As always, the weekend ends too early. I can't wait to get back to shelf, and I look forward to uncomfortably warm days in the sun in February on those limestone cliffs.