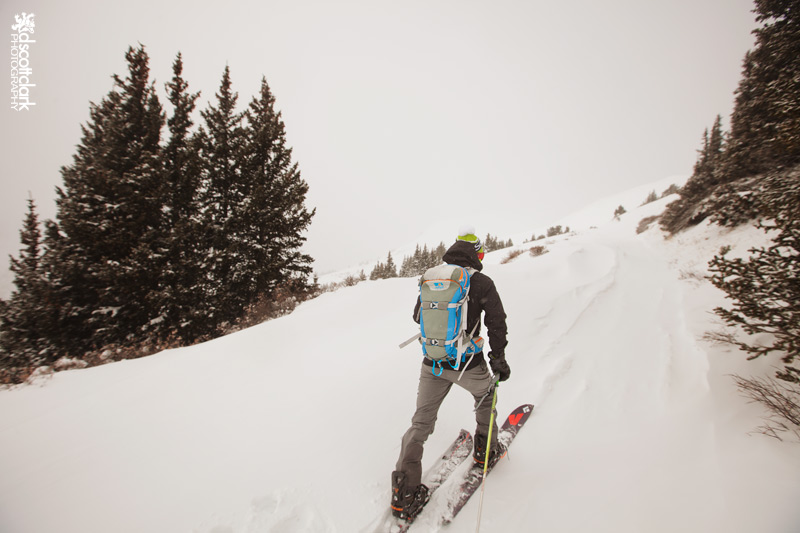 The last couple of months have been great for my adventure needs; I've gotten out and done something adventurous every weekend since the end of October! This summer I had been feeling, well, adventureless. I know, I went to Peru and had an epic, but besides that I don't feel like I did anything really awesome. I got out and climbed around Colorado, and I did get to raft the South Platte river which lightened my spirit quite a bit, but all of that wasn't enough. Spending two consecutive weekends on Long's Peak was a great start to what I hope will continue to be an adventurous year.
Last weekend I got out for my dose of adventure, but both jaunts into the wild were less than ideal – I'd even say disappointing.
Besides climbing Dreamweaver at the beginning of November, with zero ice on the route, I haven't gotten out to ice climb yet this year. Disappointing. Friday I finally got out with Matt Lloyd, excited to get into some good water ice in Vail, but we decided to go to Officer's Gulch instead, mostly because it's slightly closer. You can see the Shroud from I-70 and it usually looks quite fat. The approach is a ten minute walk on a flat bike path, about as easy as it gets in Colorado without rapping into the Ouray Ice Park.
The Shroud was not looking particularly fat as we approached. What is usually one very solid slab of blue water ice was nearly two separate pillars of dripping chandelier ice. Dripping. The temperature is flirting with 0ºF and the ice is dripping! Not a little but showering you as you climb, making it almost impossible to look up, soaking your climbing gloves making your fingers unusable, and finally freezing to every part of your outer shell making you an icy coat of armor. You start an ice screw into the chandelier ice and feel it sink hollowly in with little resistance, not inspiring confidence in it's ability to catch you if you fall. Hanging off your tools with hands that are beyond numb, forearms unbelievably pumped, and feet slipping off the featureless ice you will yourself to continue. It's easier to go up.
On top of the first vertical section snow gathers on the low angle shelf, your ice tools tear through a layer of unconsolidated ice that starts to avalanche on top of you. You push that aside and get a solid foot, relaxing a bit as you make your way to the second tier of vertical ice. This time, as you swing your ax into the ice it shatters all around, breaking off and exposing the granite beneath. You lightly pick at the ice to create a hole strong enough to hold you but not too deep, but your tool is dull from dry tooling, refusing to sink into the hole. You inch higher, kicking your crampons into columns of ice you could reach both hands around. Your last ice screw is full of ice and won't start. It's useless. You have to just push through to the anchors. As you lower back down what you just ascended you think to yourself, "man, I love ice climbing!"
Suffice to say, the conditions of the ice on the Shroud were less than optimal. Matt and I did a couple of laps each, I ran up a mixed route to practice dry tooling, and we headed home. Not a lot of climbing for the hour and half drive.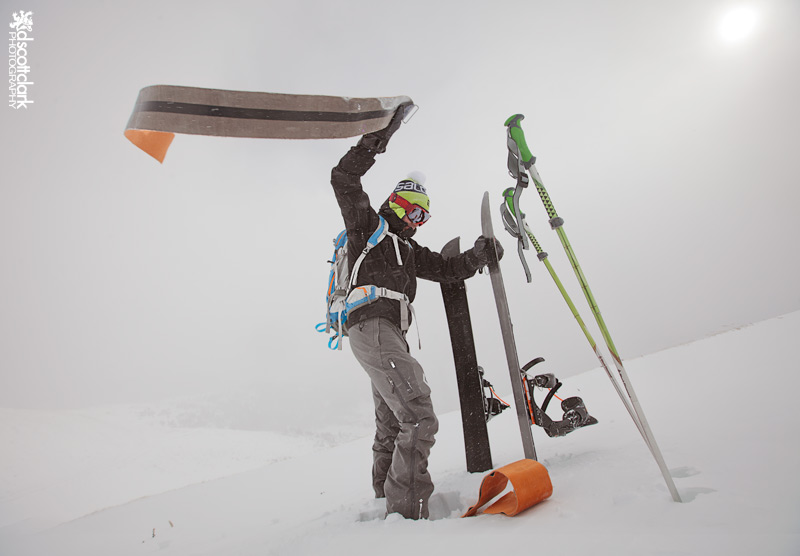 Lee pulls off the skins from his splitboard, preparing to ride down what looked like great snow
Sunday I head out with my buddy, Lee France, to check out Hoosier Pass for some backcountry skiing. We picked it because we could get there without getting on I-70, which is always choked with traffic on the weekend. Hoosier Pass is just south of Breckenridge on highway 9, and surrounded by 14ers, Lincoln and Quandary. It's been snowing a decent amount this early season so we thought that in the least it would be skiable. We skin up the trail for two hours debating where to ski. Do we drop over the north side into the bowl or stay below the treeline and ski down to the reservoir on the south side? Lee is a cartographer for National Geographic, and he created a map showing the angles of the faces that would be susceptible to avalanches. The danger above the treeline was considerable so we elected to ski down to the reservoir in the trees. We take two turns in moderately good powder (woo…) and the mountain says, "That's all you get!" We're stopped. The snow on low angle will barely slide under my skis. We wallow over to the a steeper gully and every turn is greeted by the equivalent of nails raking down a chalk board: rocks. There's little more than a couple of inches over some of them. At one point I just am sliding down a granite slab with less than an inch of snow under me. We've been beaten. Reluctantly I take my skis off. I believed longer than Lee, he was already stumbling down the mountain, falling in the scree, with his snowboard in his hands. The snow hides the inconsistencies of the route you choose, one step you're on a rock, your knee against your chest, the next you sink to your waist and fall over. Every step comes with a curse under your breath. This. is. awful.
We put our skins on at the bottom and ready ourselves for another two hour trip back up the mountain to where we started. We're on residential roads, passing empty, expensive summer cabins. A couple cars pass us. I wanted to stick my thumb out, but I didn't. This is why we get our right? For the exercise? I think about how heavy my skis and boots are and how badly I want a much lighter Dynafit set up. Every step I take, with each foot I'm dragging an extra 12.5 pounds. I think about how many steps I've taken. How much does that mean I've lifted today? I don't want to be – I want to be a machine – but I'm a baby when it comes to carrying weight uphill. I'll blame it on the 26 years of living at the grand elevation of 900ft or less. I just keep repeating to myself, "this is training. I'm getting fit. This is training. How the hell am I supposed to keep up with the athletes I'm shooting?"
Not every adventure is grand, and not every one is a success. This day was definitely not a success. But on to the next! Also, pray for snow! Do the snow dance. Do something. I want amazeball snow. Maybe I shouldn't expect that in Colorado.