Admittedly I was not great about adding posts from this past winter. I'm still trying to catch up, and there's a lot to catch up on.
———————————————————-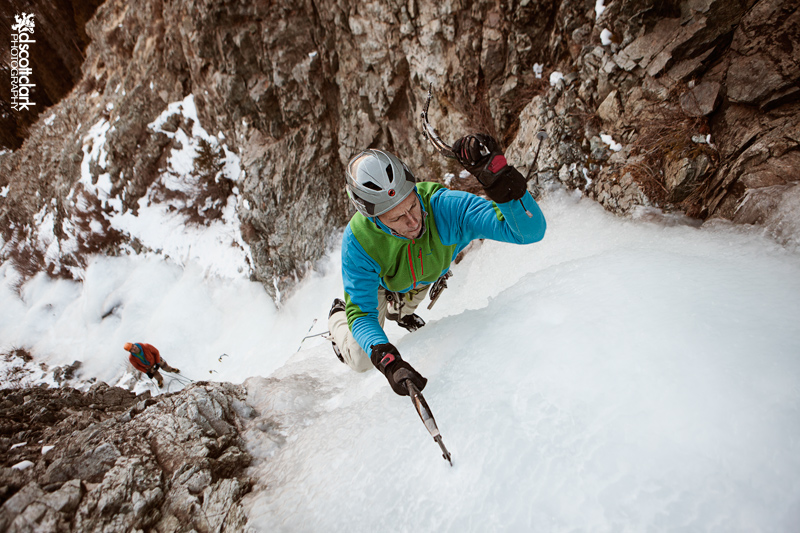 Matt Lloyd swinging into Three Tiers at Officer's Gulch
Matt Lloyd calls me quite often at 6:30 in the morning with a ludicrous amount of energy and enthusiasm. "Let's go climbing today!" Sometimes it's Eldorado Canyon, sometimes it's Clear Creek or Table Mountain. Wherever it is it doesn't matter, it's just good to get out and climb. And honestly, I'm incredibly thankful that he does call me, even though I do value my sleep and I'm usually less than enthused when I answer the phone. I've gotten to explore so much of Colorado in the last fifteen months because of those 6:30am calls.
Late last November the moral in the snow sports community was low. We'd gotten some good early snows but then remained dry for most of November and December. But this meant that many of the ice climbing areas that normally have a very high avalanche danger were clear for climbing.
Matt calls and says we're going to do our first bit of ice this year at Officer's Gulch with our friend Colin. "Awesome, I'm in. But I don't have my ice tools yet." Matt tells me, "It's fine, I'll pick you up a pair."
I call him on my way to the carpool lot, "Matt, in my excitement to leave I forgot my helmet." This is not unusual. I'm pretty good at forgetting important items. "Well, the good news is," Matt tells me, "I have an extra helmet. The bad news is I forgot to grab you tools. We'll figure it out. We'll make it work."
Officer's Gulch, otherwise called Tenmile Canyon, has some great ice climbing that is reasonably accessible, but most of the winter it can be dangerous to climb because of the avalanche danger. Some of the classics, however, are The Shroud (WI 3-4) and Round the Corner (WI 4-5). But we wanted to get a warm up for the season on Three Tiers, 500 vertical feet of WI 2-3 and low angle ice walking up – you might have guessed already – tiers of good climbing. Good thing we chose this, having 2 sets of tools for three people is precarious.
The first pitch is the crux of it. Easily solo-able but without tools for everyone, thankfully, we rope up. It's good to be swinging into ice again. I started last season at the Ouray Ice Fest and kind of fell in love. I've been rock climbing most of my life, but there's something about ice that's addicting in a different way.
After the first pitch I get left with a trailing rope and and no tools. For the low angle ice it's not a problem, but when I reach the vertical sections I start employing my rock climbing skills. I crimp on ice scars from my friends' tools and pull on columns to get myself up. It's a great exercise in footwork. Thankfully, and maybe surprisingly, I didn't fall.
We bushwhack and scramble to descend most of the way down the mountain, setting up a rope and rappelling the last fifty meters or so.
I'm excited for the rest of the season, but it will make a big difference with my own set of tools.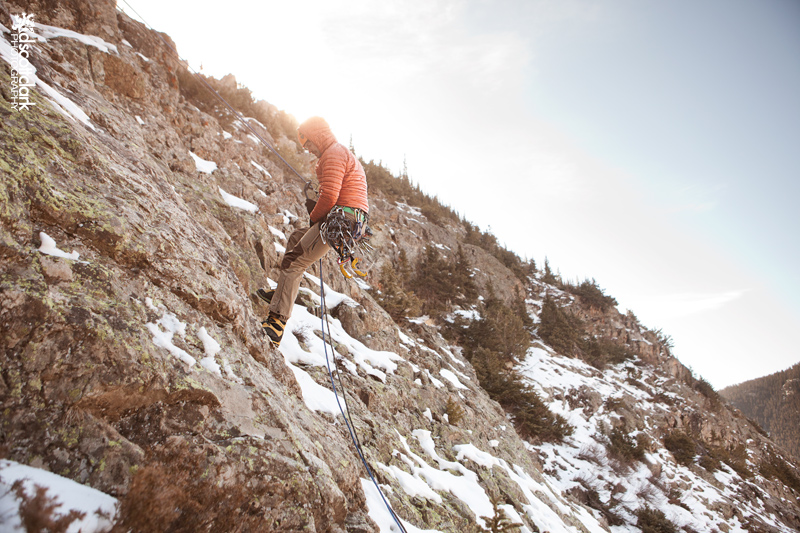 Colin descending the route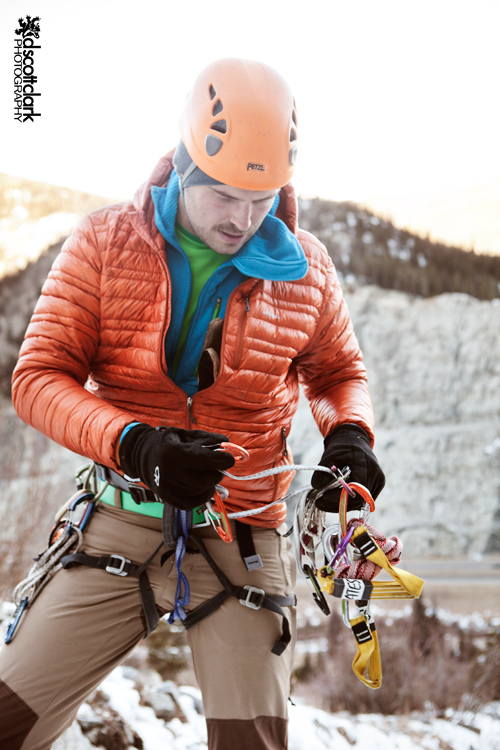 Colin racking for the climb