My girlfriend had never been to the desert near Moab, a mecca of crack climbing. So, along with Vincent, we make the 7 hour drive on a Friday night to get to Indian Creek. We drive in under a clear night sky filled with an almost full moon and a multitude of crisp, bright stars, arriving just before 1am. We find our campsite, and get some sleep. I'm excited to get up early to get as much climbing as we can in.
I wake up to see the alpenglow on the Bridger Jacks and the Six Shooters. Sometimes, it's hard to get out of my tent early enough to catch these things, but when I do I'm always glad that I did.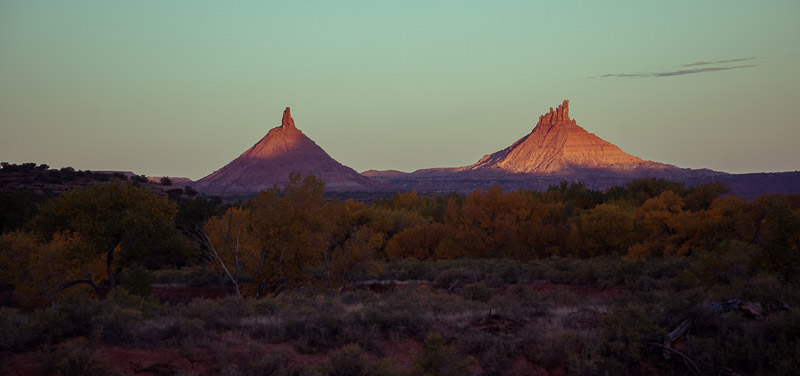 We go to check out Pistol Whipped, an area I'd never been to, down Beef Basin Road. A pretty quick approach gets us to the base of the climbs with only a few other climbers at the crag. We "warm up" on the 5.10 Cowgirls Like 'em Big. One hell of a warm up! I forgot that #5's are perfect butterflies and teacups, and I wished that I'd had two #6's for the top.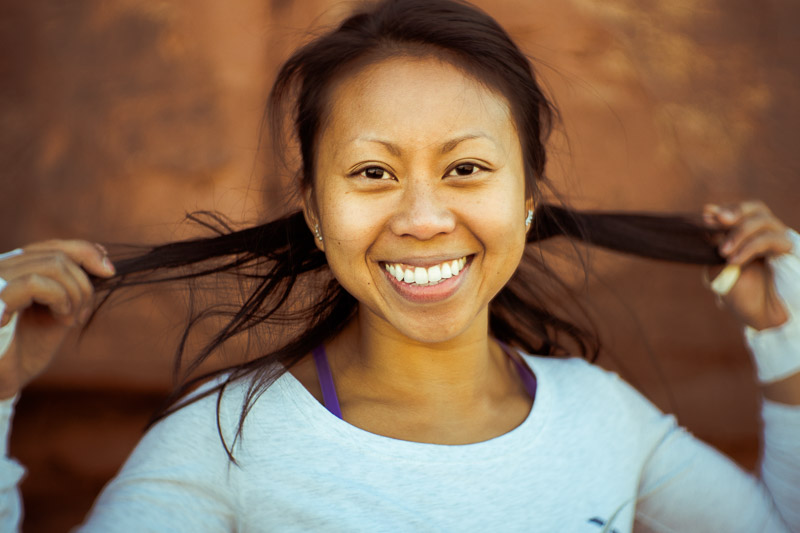 Melissa channeling her inner Pippy Longstocking
We then climbed Wounded Knee (5.10+) and Coyne Crack Simulator (5.11-). I forgot to use the left crack and fell in the .75 size crux of Wounded Knee. After you find #1's and #2's, you find yourself in a super weird wide pod that's best protected with a #5 (which I didn't have). I don't know that there is a smooth way to do that section, but I definitely understand why it's named Wounded Knee.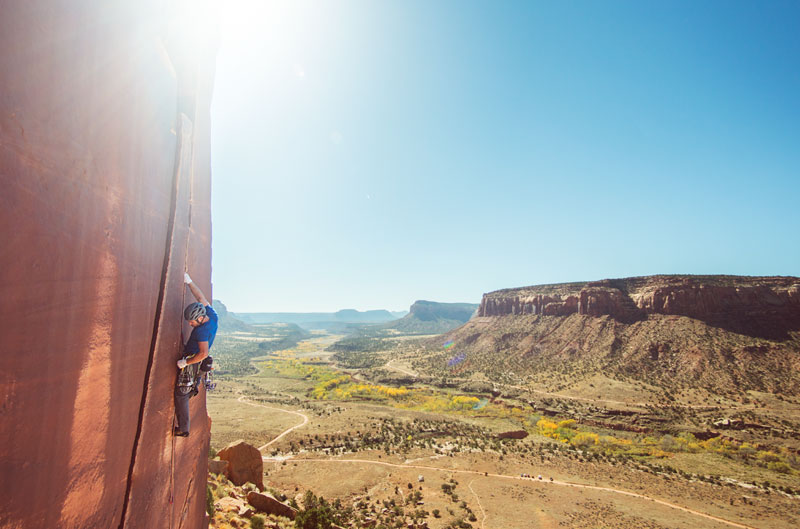 Vincent sending Wounded Knee the hard way, without the left crack. 
Coyne Crack Simulator starts with a .5 and .75 lieback to progressively bigger, perfect hands, with a short finish. I was excited to on-sight this one, and it was the only thing I sent all day.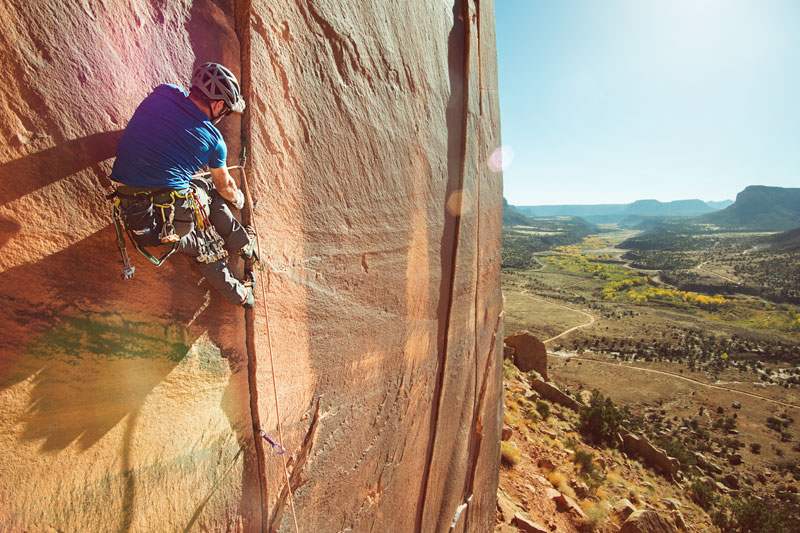 Vincent making the lieback look easy
The fall colors were on point that weekend. The desert is always beautiful, but this is extra special
Vincent really wanted to climb a tower while we were out there. I was resistant, I wanted more crack cragging, but time-wise it made sense. We drove in the morning into Moab, got breakfast and slowly made our way to Fisher Towers. After a 4×4 detour down Onion Creek, we made it to the parking lot, left the crowds behind, and found ourselves at the base of Ancient Art (5.10)
View of Ancient Art, the corkscrew tower on the right. 
There was only one party ahead of us, which I think is rare. Another party arrived a few minutes after we did. Since Vincent had led all the pitches on another trip, I led pitch 1-3. Pitch one starts with an easy scramble to a 4 bolt bolt-ladder that goes free at 5.10 (hard). It's incredibly balancy and tenious and requires good footwork.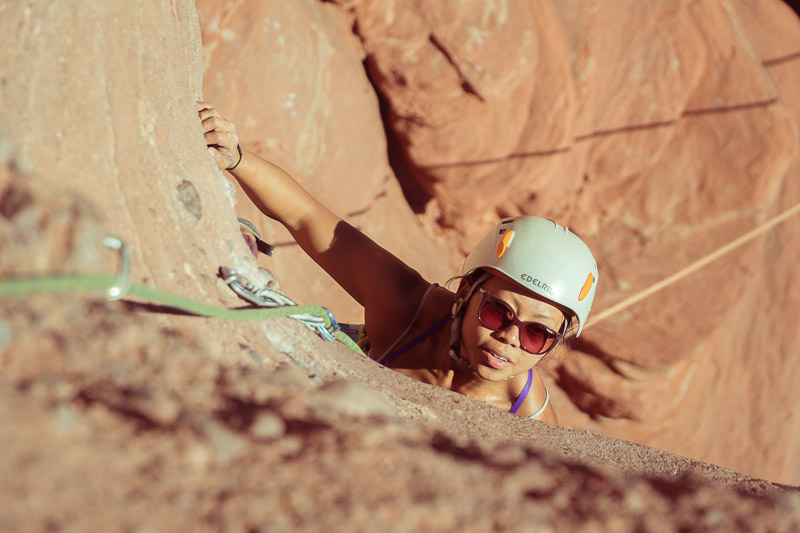 Melissa climbing the crux of pitch 1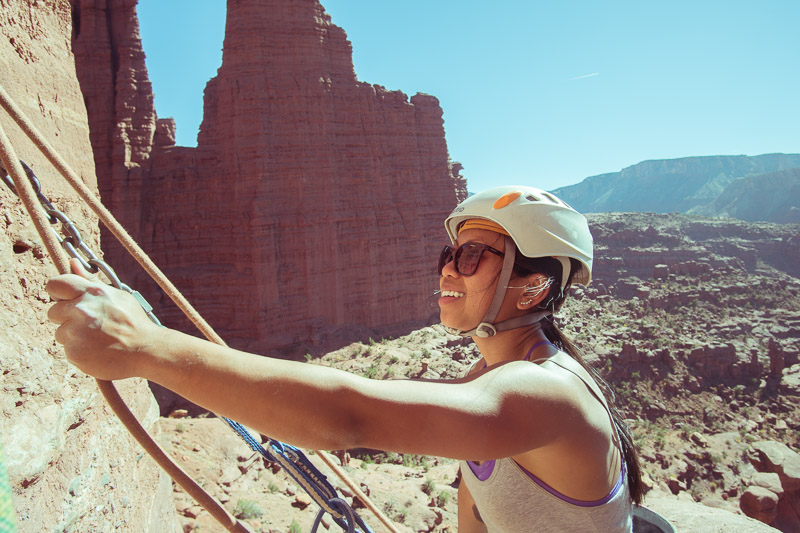 Melissa belaying Vincent up with the Titan in the background
Pitch two was an incredibly fun section with several roofs and decent gear up to a chimney. I probably could have protected the chimney, but by the time I realized I was pretty far above my last piece the options were pretty slim. I ran it out till just before the anchor ledge.
Pitch 3 is a super short, stout 5.10 (or 3 bolt bolt-ladder) that you climb pinching tiny pebbles. The exposure starts to get to you here.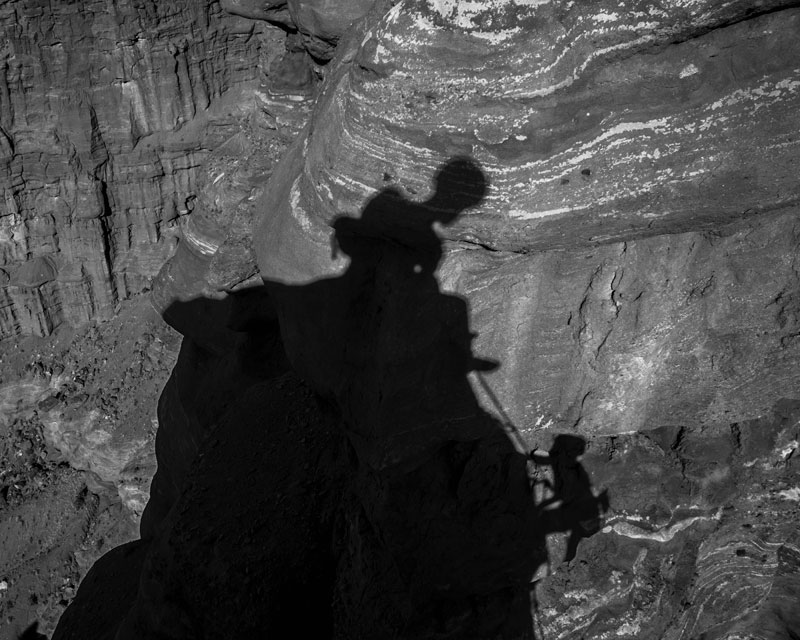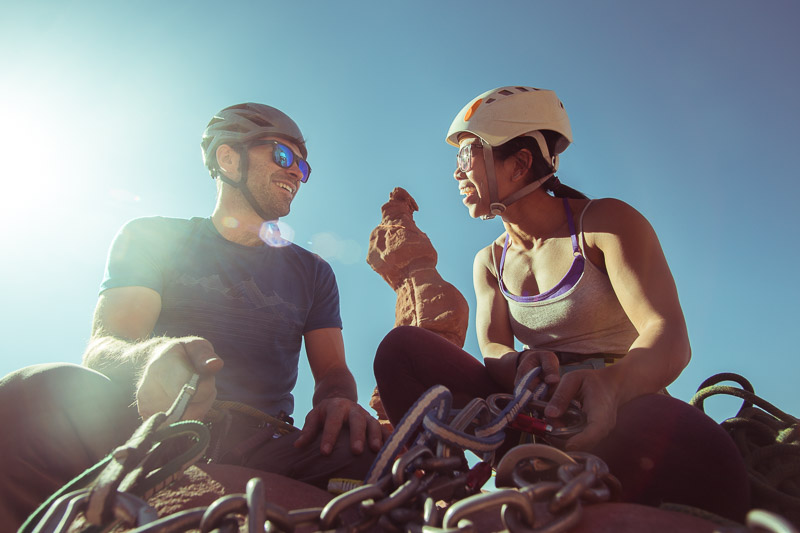 Melissa and Vincent preparing to climb the money pitch! 
I made Vincent lead the money pitch again because I wanted a photo of him on it. Definitely worth it.
Vincent attempting to show how windy it was…it was windy!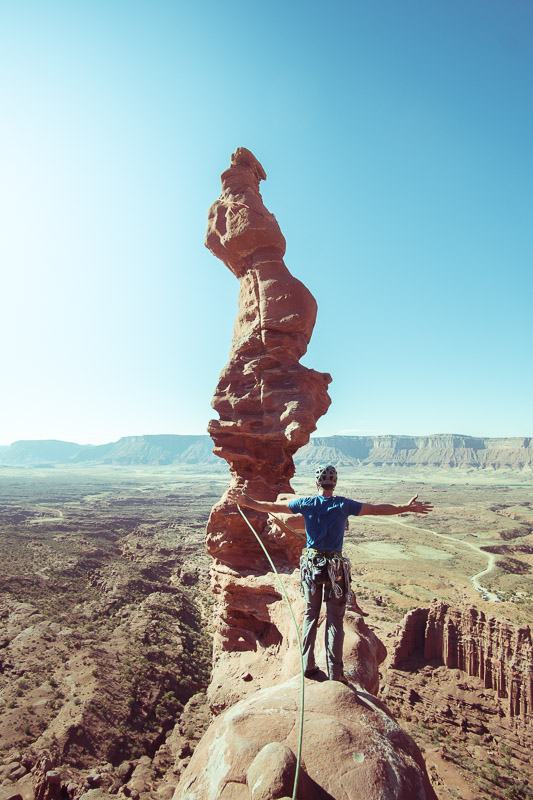 The run across the spine is pretty intimidating, with a several hundred foot drop on either side. You have to jump across one section before coming to the awkward diving board.
A 30+ stitched image panorama of Vincent topping out. This image is HUGE!  

Vincent missed my jump, but got the awkward, manditory hump of the diving board.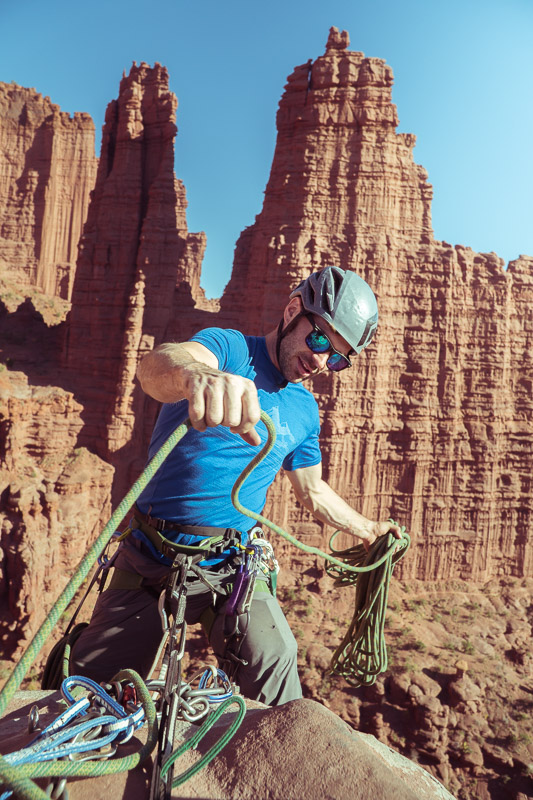 Now watch Vincent Whip…right before he Nay Nays.
Melissa takes in the view on our double rope simul-rap from the top of pitch 2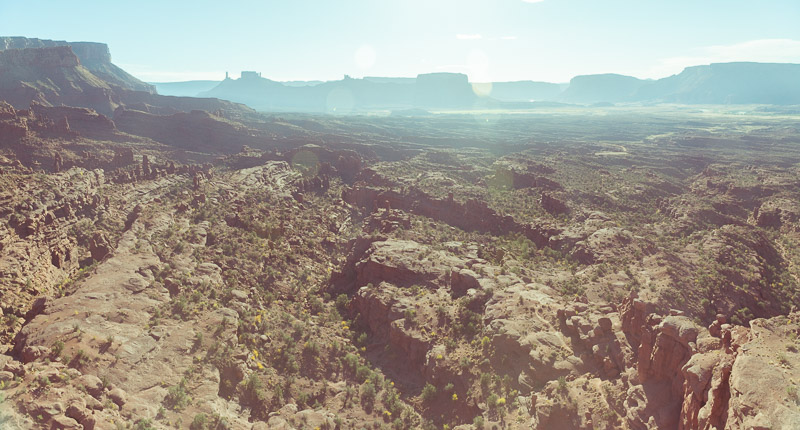 What she's looking at
The whole time we were on the route there was a team climbing the Titan. Was pretty cool watching their progress. When we got down, I realized that in the confusion of trying to get Melissa onto the simul-rap and sharing an anchor with another team, I left all of my cams attached to the anchor. So, we got to wait. It wasn't all bad, though. We got to watch an incredible sunset.
Melissa finds a boulder to play on
The view of Castle Valley at twilight from the Fishers Tower parking lot. 
The desert will always hold a part of my heart. It is such an incredibly beautiful place! I just wish it wasn't a six or seven hour drive. Can't wait to go back!